Which Dog Bed Should You Choose?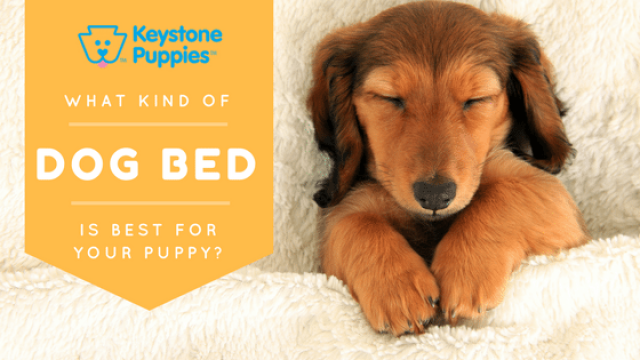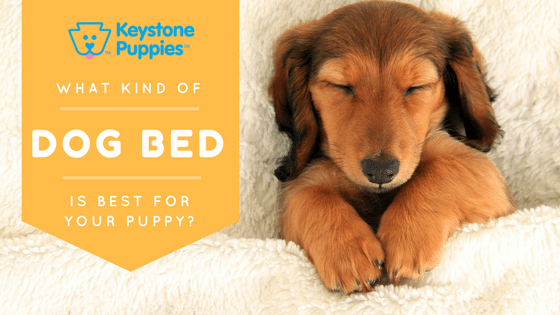 A comfy bed is crucial to a good night's sleep. That's true for people, but even more true for our pups. Since dogs spend more time sleeping than people, the comfort of your canine's bed plays a starring role in the comfort of his overall life. And while most humans sleep on some variations of a rectangular mattress, dogs beds come in all sizes, shapes, and structures. Which one is right for your pup?
Should You Share Your Bed With Your Pup?
Many pets are allowed to sleep on their owner's bed, but providing your dog with his own bed is a good idea regardless of your willingness to share. Bed sharing can be challenging for small dogs, dogs with joint issues, or for dogs with restless owners who move frequently throughout the night. If the owner or pet is sick, pregnant or already sharing the bed with another person, the sleeping situation gets more challenging.
CAUTION: Keystone Puppies does not recommend allowing your dog to share your bed if you're also sharing your bed with a baby or a child. Don't allow your pet to sleep on a child's bed or on a baby's bed.
Because dogs are pack animals, they often prefer to sleep close to their owners. Most dogs try crawling into their owners' bed once in a while. However, some dogs will settle into other areas of your home if given a chance. Once your dog has settled into their new home, watch where they sleep during the day to get a sense of which area of the house feels most secure for them. If your dog sleeps by the front door, they may want to guard their space. If they sleep under a chair in your bedroom, they may want security and protection. Some dogs feel more connected to the entire family when they sleep in a hallway or a common area. Other pups return to their crate to sleep. If you dogs prefers to sleep near you, wherever you are, they may get the best night's sleep in your bedroom.
Keep Your Pup's Bed Clean
When choosing a dog bed, think about how you will wash it. All dog beds get smelly over time. They may also attract fleas or pests. That's why you must wash your dog's bed, or the cover to the bed, as frequently as you wash your own sheets. Ideally, dog beds will be laundered once a week, or a few times a month.
Very large beds may require large commercials washers, which, for most people, means a trip to the laundromat. Memory foam must be washed by hand. You may not be able to wash beds filled with cedar chips or other organic materials. Keep these consideration in mind when choosing dog beds.
Slipcovers are usually easy to wash. Check fabrics to ensure they don't require dry-cleaning or special treatment.
Don't Worry If Your Puppy Prefers to Sleep on the Floor
Many dogs, especially younger dogs, prefer sleeping on the floor. Their healthy joints don't mind the hard surface, and for double-coated dogs like Chesapeake Bay Retrievers or Newfoundlands, cool tile or linoleum floors provide the cool sleeping environment they crave.
Sleeping on the floor also gives your pup the ability to stretch out and move around without attracting attention. That kind of independence is comforting to many breeds.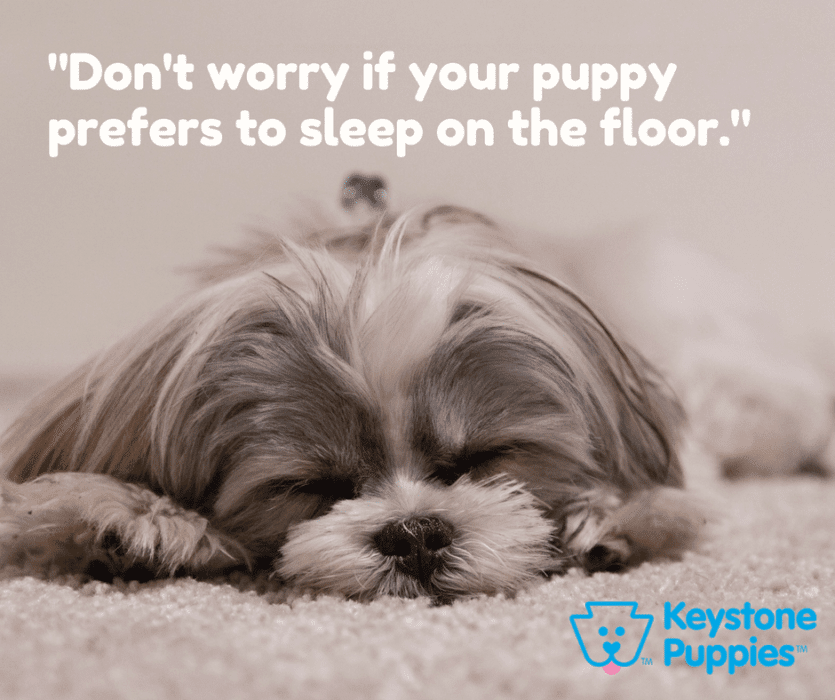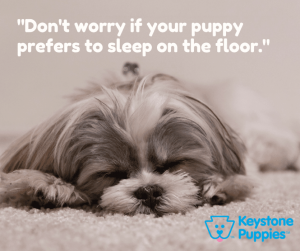 What Kinds of Puppies Prefer Loose-Fill Beds?
Loose-fill beds include all kinds of pillow beds. Pillows beds may be filled with foam, polyester fill, cotton batting, foam beads, buckwheat, or cedar.
These kinds of fluffy, soft beds work well for most dogs who enjoy warm beds. High-end dog pillows with reliable support may be a good choice for older or arthritic dogs who need extra padding and support.
Make sure any filled bed you buy has a removable cover. Even if the bed says it's fully washable, washing these types of pillow beds often breaks down the filling, resulting in uncomfortable lumps.
What Kinds of Puppies like Hammock Beds?
Hammock-style beds are usually inexpensive and very durable. Sturdy, washable fabric is suspended on frames made of metal or plastic. Hammock-style beds are also easy to clean, which is why so many kennels use them to keep pets off cold floors.
These types of beds don't offer the padding older or arthritic dogs may need, but they can be a good choice for dogs who want to stay cool without sleeping on the floor. Cold weather dogs such as Alaskan Malamutes, Akitas, and Chow Chows may prefer hammocks. Since these beds are both tough and affordable, they're also a good option for warm-weather vacation homes.
What Kinds of Puppies Like Cave Beds?
Cave beds sound cold, but they're actually one of coziest dog beds available. A flap or a hood provides additional comfort and security for dogs who like to sleep in protected spaces. The tight, enclosed bed may provide a sense of comfort and safety, especially for toy and small breeds like Chihuahuas, Shihpoos, and Toy Poodles.
Cave beds are also good for dogs who like their crates or who burrow into their beds. Cave beds may also be helpful to warm pups with thin coats such as Pugs and Boston Terriers.
Most cave beds are readily available in small sizes, but if you do a little research you can find good cave beds for larger breeds too. Cave beds are not always easy to clean. Look for models with covers that can be removed and machine-washed.
What Kinds of Puppies like Memory Foam Beds?
The highest-priced dog beds often fall into the memory foam category, but affordable memory foam options are also available in discount stores and at large wholesale chains. Top-of-the-line memory foam beds can cost hundreds of dollars and often come with plush extras like velvety covers, suede-like fabrics, faux fur, or sheepskin.
Is it worth spending extra cash on a luxury bed? Younger dogs often prefer inexpensive offerings with less support, and may not appreciate the extra comforts. However, older dogs or dogs with joint issues may sleep better on beds that offer the combination of support and "give" memory foam provides.
As with any dog bed, make sure your selection comes with an easy-to-wash cover.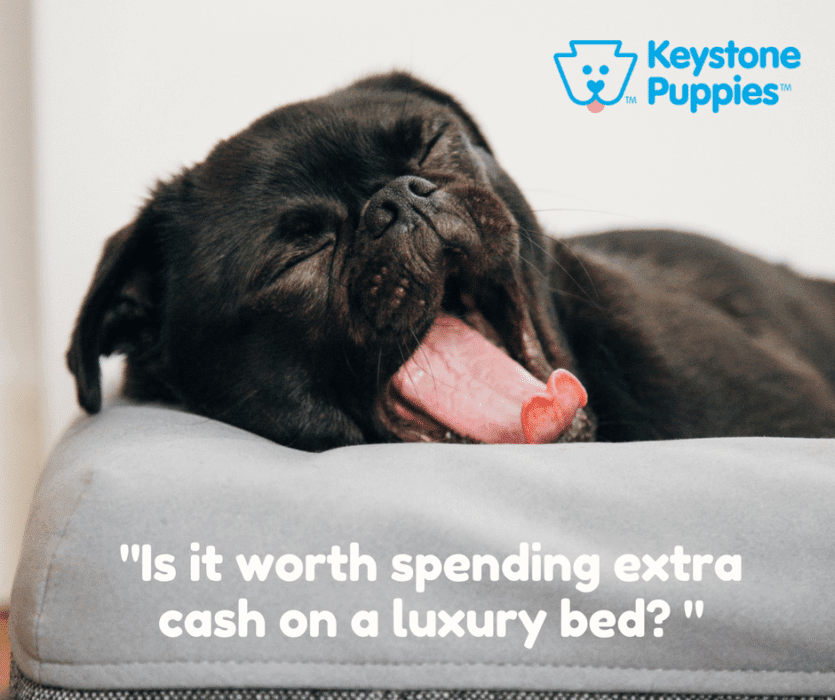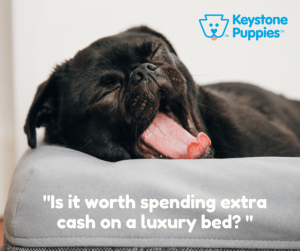 [/grid-1-3]
[/group]
Which Kinds of Puppies Like Crate Covers and Pads?
Some dogs prefer the security that crate sleeping provides. Adding a create pad and a crate cover gives some pups the added softness and privacy they need to sleep comfortably. Crate pads can be thin foam (great for dogs who get overheated) or plush memory foam. Find the model that works best for your dog's needs.
Which Kinds of Puppies Like Dog Sofas?
While a dog bed is a great place for your pup to spend the night, you may also want to think about a dog sofa for your main living spaces. Giving your pup his own space in common areas is one way to encourage your dog to keep off the human furniture. Dog sofas come in all shapes and sizes and range from affordable to downright luxurious. Choose the model that makes the most sense for your dog and your budget.
Even More Bed Options
Beds come in all shapes and sizes, and many have been developed for special purposes.
Dog Sofas

While a dog bed is a great place for your pup to spend the night, you may also want to think about a dog sofa for your main living spaces. Giving your pup his own space in common areas is one way to encourage your dog to keep off the human furniture. Dog sofas come in all shapes and sizes and range from affordable to downright luxurious. Choose the model that makes the most sense for your dog and your budget.

Dog Car Seats

Dog car seats keep dogs more secure than sleeping on your vehicle's back seat. Dog car seats provide the comfort of a dog bed but are also secured with a seat belt. They're most commonly used for small and toy breeds.

Pool and Patio Beds for Dogs

If you spend a lot of time on your deck or beside the pool, you may want to invest in an outdoor bed. Outdoor beds have water-resistant and fade-resistant covers combined with hardier types of fill. Patio beds come in all shapes and sized to suit a wide range of dogs.
Tips for Human Bed Sharing
Bed sharing may work for you and your dog. If you're sharing your bed with a dog, consider adding these little extras to make your bed more accommodating.
Dog Steps

Small dogs, dogs with long backs like Basset Hounds, and older or arthritic dogs need help to climb in and out of your bed safely. Dog steps are available in a variety of sizes, materials, and price points.

A Dog Blanket

Adding an easy-to-wash bedspread, throw, or blanket to the bottom half of your bed protects your bedding from shedding and stains. Waterproof fabrics can be used for dogs who tend to drool or dribble.
*****
Keystone Puppies cares about your pup's well-being. Remember that dogs should not share beds with children or babies. If you suspect your pup is not sleeping well, or if you detect any health issues related to sleep or your dog's sleeping environment, please discuss your concerns with a veterinarian. If you haven't decided which dog is right for you, research over 200 breeds of dogs here. If you're ready to search for your new puppy now, click here to get started.