Don't Fall for Fake Keystone Puppies!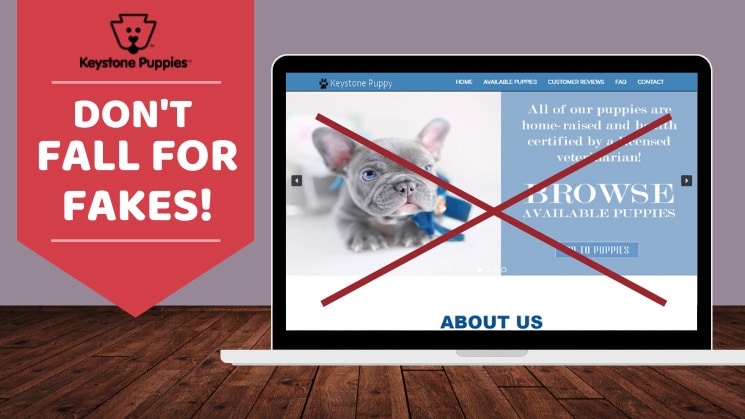 We want to take the time to make everyone aware of an online scam that may have affected you or someone you know while shopping for a puppy. Right now, there is a scam website,  keystonepupps.com, that is pretending to be us, or pretending to be affiliated with us, in order to scam innocent people out of money.
We are NOT affiliated with and DO NOT recommend shopping at Keystone Pupps! This website is an illegal scam which will take your money, with NO intent to deliver a puppy to you! Please help us in STOPPING this online predator from stealing from innocent people, lying about sweet puppies, and hurting our business.
We aren't the only people who are fighting back against this scam site. Leading consumer protection group Petscams.com has a listing warning people of shopping from this organization: https://petscams.com/puppy-scammer-list/keystonepupps-com/
If you've been affected by this scam, there are a few things you should do. All we can do right now is provide you the correct information and help educate as many people as possible about this fraud.
What to Do If You've Been Scammed:
If you or someone you know have been scammed out of money from keystonepupps.com, please do all 4 of the following:
Report This to Your State's Attorney General's Office – While digital scams can be very hard for the police to prosecute, the more people that come forward makes it easier. Your best recourse for legal action is your state's Attorney General. Find your state Attorney General here: https://www.usa.gov/state-attorney-general
File a Complaint with the Internet Crime Complaint Center – The Internet Crime Complaint Center is a federal organization dedicated to stopping and prosecuting online criminals. File a complaint with them here:  https://www.ic3.gov/default.aspx
If you Paid the Scammer with Zelle, Report Your Information to Them – Keystone Pupps requests payment through a digital method of transferring currency. Informing Zelle about the fraud being committed on their platform is essential. Contact Zelle here: https://www.zellepay.com/support/contact
Make a Report on the Website Petscams – Leave your own experience on the site to warn others about the danger of this organization. This may help keep this criminal organization from deceiving anyone else.
General Rules to Help You Avoid Scams
Unfortunately, this is not the first online scam to use the promise of a puppy as a lure to deceive a potential customer. While the details of every scam will differ, these are some suggestions when purchasing a puppy online to make sure it is not a scam.
Ask if you can visit the puppies – This is essential to know that the puppies are well taken care of and REAL!
Check the website's Google Reviews (not the reviews on their website) – Look at independent reviews on trusted platforms that the potential scammers can't alter or manipulate.
Ask to speak directly with the breeder of the puppy – While going through a puppy service like us is common, you should be allowed to ask the breeder questions to ensure that you have total confidence before you buy.
A puppy delivery service is never free – Just like with most things, if it seems too good to be true, it probably is.
Don't trust big sales/specials — Dogs aren't shoes, they don't operate on a BOGO promo. A too-good-too-be-true sale is often just that.
Get more details about how to avoid online puppy scams and how to fight puppy mills.
If you still have questions about online puppy scams or the fake site, Keystone Pupps, please feel free to reach out to our team. We are passionate and want to help spread the word about this unfortunate occurrence with as many people as we can, so we're happy to jump on a call with you or respond to your emails. Please also help us in shutting this site down by spreading the word and sharing this on your social media channels!