French Bulldog Puppies for Sale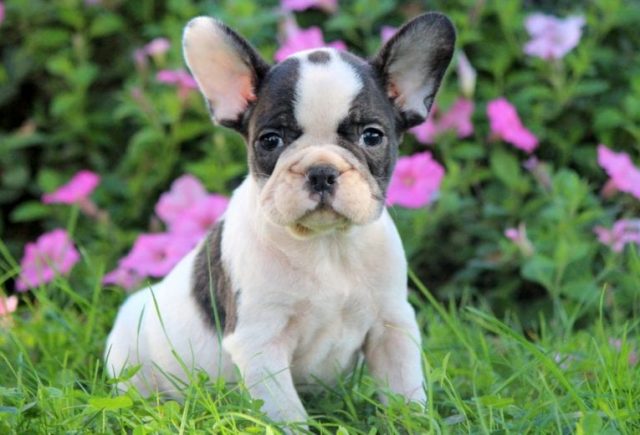 Pick a Pup
Breed Characteristics
Size
Activity
Children
Other Dogs
Shedding
Watch
Guard
Trainability
Overview
Looking for French Bulldog puppies for sale? This pup is a descendant of the robust and athletic fighting dogs popular in England in the 1600's and 1700's. Over the centuries, the dogs were bred for different traits, and various breeds emerged. The French bulldog was bred to be smaller, livelier, and gentle. They became popular with the working class, including British lace makers.
When British lace makers migrated to France during the Industrial Revolution, the French become enchanted with their unusual pets. The popularity of French Bulldogs grew among shopkeepers, and the pups were often featured in advertisements of the era. Upper-class Frenchmen also began coveting the little dogs, while the British remained indifferent to their appeal.
As a result, the French adopted this smaller bulldog as one of their own. The French formalized breed standards to include a compact body and straight legs, without the extreme under-jaw of the English breed. Ears could be either be erect "bat ears' and floppy "rose" ears.
Wealthy Americans visiting Paris also fell in love with the breed, and soon "Frenchies" started showing up at Westminster in 1896 (two years before the AKC recognized the breed in 1898 as a Non-Sporting breed.)
Like many European breeds, Frenchies fell sharply in popularity during the World Wars. At one point, there were less than 1,000 in America. It wasn't until the 1980's that the breed rebounded. Dedicated dog owners began successfully promoting their attributes, and today the breed enjoys widespread popularity.
Country of Origin: England
Weight: 20 - 28 lbs
Height: 10 - 13 inches
Color: Coat colors can be brindle, fawn, white, or brindle and white. Fawn colors can range from a reddish color through yellow to a pale cream.
Temperament
If you're looking for French Bulldog puppies to adopt, you should understand their temperament. These puppies are gentle, loving and affectionate. They are a good family dog and do well with children. The breed is also intelligent, docile and relatively easy to train.
While puppies may be very energetic, adult Frenchies are relatively calm and have moderate exercise needs. That makes them an excellent choice for apartments and for owners who are unable to provide vigorous exercise.
The dog bonds with owners and can get depressed if left alone for long periods. Bored or lonely pups can also chew or become destructive.
Health
If you're looking for French Bulldog puppies for sale, it's important to understand their health requirement. The average lifespan is 10 – 12 years. This is a brachycephalic breed. That means that their short snout and broad rib cage make them more susceptible to a range of respiratory and eye problems. This also means they don't handle heat well and can quickly become dangerously overheated. Importantly, Frenchies can't swim and should be kept away from deep water.
Other health issues are:
Skin and ear issues and allergies
Luxating Patella
Propensity to Obesity
Elongated Soft Palate
This dog may be prone to eye or ear issues. Use a clean cloth to gently daily wipe around eyes and in ears to minimize the risk of infections. Use a clean cloth to gently wipe between skin flaps or wrinkle to prevent skin irritation or infections.
The Frenchie can quickly become overweight, which will compromise his health. Carefully monitor food intake and weight.
All breeds should have regular vet checkups and stay current on all shots and vaccinations.
Coat & Coat Care
The coat is short, smooth and finely textured. Their hair lies flat and close to their body.
This dog is an average shedder and needs a quick brushing a few times a week to control shedding. While you should avoid bathing your Frenchie, it is very important to use a clean, damp cloth to clean between wrinkles to help avoid skin irritation and/or infection.
French Bulldog Puppies For Sale
No puppies available at this time.
Dog Breeds Similar to the French Bulldog