Difference Between Hypoallergenic & Non-Shedding Dogs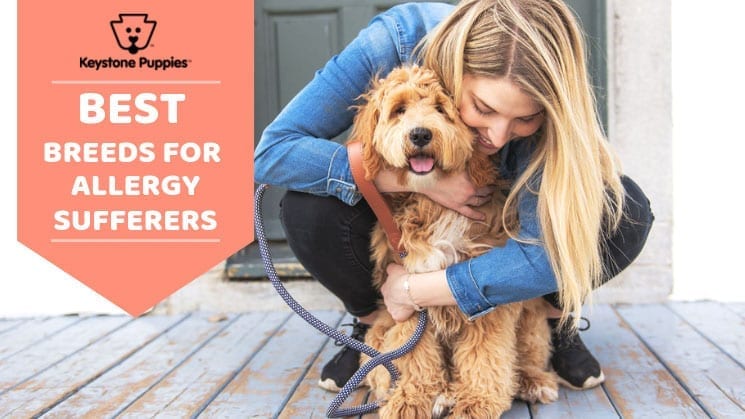 You'd love a puppy, but not the allergies that come with it. The good news is that there are plenty of breeds out there that are perfect for allergy sufferers.
While every breed sheds at least a little, there are a variety of hypoallergenic and non-shedding dog breeds to choose from. Keep reading to discover the best dogs for people with allergies — and to find out how you can adopt one of your own today!
What Makes a Dog Hypoallergenic, Anyway?
For most people, it's not hard to tell if you are allergic to dogs or not. Coughing, red or itchy eyes, a runny or stuffy nose, or excessive sneezing during or after you've been around a pooch are clear indicators of an allergy.
But, what is it about these furry little friends that cause some people to swell? In short, there are just a few key factors to blame!
The Saliva – Besides the unsanitary effects of dog drool throughout your house, a dog's saliva can also carry allergy-inducing particles. This explains why some people break out with skin reactions where a dog has licked them!
The Fur – In the majority of animal allergy cases, dander in the fur is what triggers most allergic reactions. Dogs with long, loose coats tend to shed a lot, causing the dander particles to float around the house, and causing you to sneeze even after the dog has left the room.
The Urine – Yes, dog's urine is a source of allergens! All dogs produce multiple proteins that cause an allergy, even in their urine.
While no dog is completely allergy eliminating, the best hypoallergenic dog breeds have minimal dander to spread and have shorter still adorable coats.
Best Hypoallergenic Dog Breeds to Adopt
Dogs are more than just man's best friend — they're a companion that EVERYONE deserves to have! Whether you need to be mindful to find dogs for people with allergies, or you're just interested in finding a cute breed, here is our list of best hypoallergenic dog breeds:
1. Shih Tzu
The Shih Tzu is known as the "lion dog", and it's easy to see why. Just look at this ferocious little guy, those feisty eyes and mighty size! We hope you're friends with a good groomer, because this hypoallergenic dog breed does require a fair amount of grooming upkeep. A small price for such a beautiful coat! Shop our favorite brush for Shih Tzus HERE! If you think a Shiz Tzu is the breed for you, see our available puppies for sale.
2. Portuguese Water Dog
If you like paradoxes, this pooch is made for you! Despite being a rare breed, they are amongst the most popular in the United States. Plus, the Obama's have a Portuguese Water Dog. Check out our available Portuguese Water puppies for sale if you think this breed will suit you!
3. Yorkie Terrier
Sweet-faced little Yorkshire Terriers fits in purses, laps, and almost any family's lifestyle. They truly are one of the best hypoallergenic dog breeds that squeeze a big personality in a tiny frame! We've got tons of Yorkshire Terrier puppies for sale, find your favorite.
4. Maltese
According to experts, the phrase "A bark worse than it's bite" was created thanks to this little pup! Ok, maybe not actually, but Maltese breed are indeed vocal yet harmless. Browse our Maltese puppies for sale if you think this is the right breed for you.
5. Havanese
The only breakout allergy sufferers will have with a Havanese is a collective "awww"! This literal ball of fluff will grow up to be less than 15 pounds, making for the perfect cuddle partner! See all the Havanese puppies we have for sale.
Best Non-Shedding Dog Breeds to Adopt
Keep your vacuum in the closet. Put that dustpan away! With a non-shedding dog breed, your sniffles won't be the only thing you see less of now.
These are great dogs for people with allergies, but grooming is a must for most of them! Since their hair grows, but doesn't shed, this means that just like a human, they'll need haircuts and brushing to prevent matted or tangled fur. Check out these popular dog grooming essentials. Here's a few suggestions and our favorite non-shedding dog breeds:
1. Samoyed
Ok, just look at this fluffy doggo! By the soft, abundant coat, you may think that this wouldn't be a dog for people with allergies, but we're happy to say that's not the case! If you think this breed is right for you, check out Keystone Puppies' Samoyed puppies for sale.
2. Terrier
Almost any breed with "Terrier" in the mix is going to be a good dog for people with allergies. Scottish Terriers, Cairn Terriers, Australian Terriers and Welsh Terriers are just a few of the cuties to call your own. If you think this breed is right for you, check out Keystone Puppies' West Highland Terrier puppies for sale which is pictured above.
3. Labradoodle
2 is indeed better than 1, especially when it comes to dog breeds! Labradoodles take the best from both their Labrador and their Poodle heritage to create one adorable, intelligent, low-shedding pup. Get your paws on one of your own by shopping our Labradoodle puppies for sale!
4. Bichon Frise
Bichon Frise? More like Bichon Fris-YAY! These playful pups are known for their fluffy white coat and gentle companionship. This is an adorably friendly, playful breed, and a perfect dog breed for families with children. Better yet? You'll rarely see their fur floating around your hardwoods, since shedding is minimal! If you think this breed is right for you, check out Keystone Puppies' Bichon Frise puppies for sale which is pictured above.
5. Poodle
We've always had major heart eyes for Poodles, but the fact that they hardly shed just grows our love even more! Another reason to get a Poodle? They're super smart. This means potty training and puppy proofing your home will be a walk in the park (which ironically, is one of their favorite things to do)! Check out Keystone Puppies' Poodle puppies for sale.
Adopting a Hypoallergenic or Non-Shedding Dog
When you first adopt your puppy, nobody knows him or her better than the one who raised them so far – their breeder! Always check with your breeder about the parent's shedding habits, and how often grooming is needed.
Most of the puppies from our list are gentle, playful pooches. However, if you are planning on bringing this puppy home to another dog, we recommend reading our short list of tips to make that transition as easy as possible.
Find Your Perfect Pooch!
At Keystone Puppies, we're passionate about pairing a good puppy with a good home. Explore the wide variety of hypoallergenic dog breeds, non-shedding dog breeds, and everything in between!
Use our puppy finder to find your Lancaster puppy.