West Highland Terrier Puppies for Sale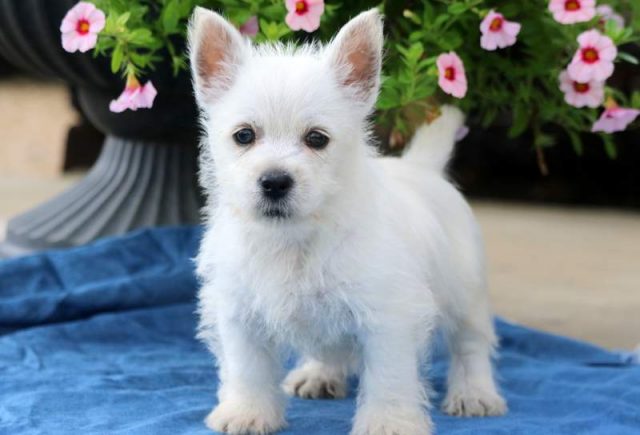 Pick a Pup
Breed Characteristics
Size
Activity
Children
Other Dogs
Shedding
Watch
Guard
Trainability
Overview
The West Highland Terrier breed originated in Scotland over 300 years ago. This breed was originally bred to hunt fox & badger and were designed to be white so the hunter would not accidentally shoot the dog. This breed was classified as the West Highland Terrier in 1904.
The Westie was first registered by the AKC in 1908 and was grouped as Terrier.
Country of Origin: Scotland
Weight: 15 - 22 lbs
Height: 10 - 11 inches
Color: The West Highland Terrier is white.
Temperament
The Westie is active, curious, alert and well behaved. This breed is friendly and fun loving making them excellent family pets. They have great personalities and do well with other dogs.
Health
The Westie life expectancy is between 12 – 15 years. This breed is generally very healthy but some health concerns to look for are:
Patellar Luxation
Skin Allergies
Congenital Heart Disease
Coat & Coat Care
Their outer coat is wiry while their undercoat is very soft and furry.
Their coat is best when brushed a few times a week and bathed monthly. Minimal trimming is needed.
West Highland Terrier Puppies For Sale
No puppies available at this time.
Dog Breeds Similar to the West Highland Terrier