Siberian Husky Puppies for Sale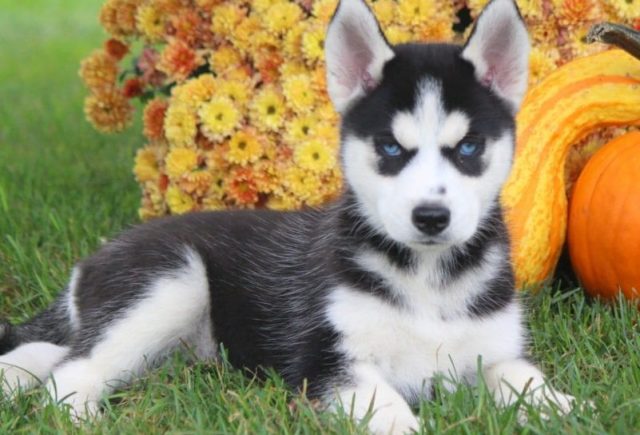 Pick a Pup
Breed Characteristics
Size
Activity
Children
Other Dogs
Shedding
Watch
Guard
Trainability
Overview
Siberian Huskies really did originate in Siberia in Northeast Asia. These dogs were bred by the Chukchi who still live in the Bering Sea region. The Chukchi are indigenous people who relied on the Husky to pulls sleds and herd reindeer. In the early 1900's, Siberian Huskies were introduced to Alaska and quickly became a popular sled dog.
In 1925 a team of Siberian Huskies puppies became famous in America for heroically delivering life-saving medicine to Nome. One of the sled drivers took his famous team of Huskies to New England for exposition races, which led to the Husky gaining a devoted following in the lower 48 states.
The AKC recognized this breed as part of the working group in 1930.
Today these sled dogs prized pets, easily identified by their distinctive markings and striking eye color. Because these snow breeds were developed as sled dogs, they need a great deal of vigorous outdoor exercise to stay happy, healthy, and calm. Although Huskies prefer to be outdoor dogs, they are also loyal to their family and do well with children.
Country of Origin: Siberia (Northern Asia)
Weight: 35 - 60 lbs
Height: 20 - 23 1/2 inches
Color: The Siberian Husky come in many different colors which include black & white, red & white, gray & white and pure white. There are also a variety of tones to all of these colors.
Temperament
The Siberian Husky is an intelligent, energetic breed. Despite an intimidating, wolf-like appearance, Huskies are indifferent to strangers, non-aggressive and like being around other dogs.
They were bred to be a hard-working sled dog, so this pup will need a lot of exercise. The Husky has a real love of the outdoors and doesn't thrive without plenty of daily, outdoor activity. This dog is a good candidate for a cozy dog house.
While this is a friendly breed, the Siberian Husky wants a master who is clearly in command. The Siberian Husky will respond well to training if you are a strong leader who works with the dog consistently. This is not the pup for you if you dislike training or are not willing to take the role of Alpha-dog in your Husky's life.
Huskies are loyal dogs and love their families. They do well with children, strangers, and other dogs.
Health
The Siberian Husky's life expectancy is between 12 – 14 years. This breed is a healthy, vigorous breed, and health issues are uncommon. However, this breed may occasionally experience the following health issues;
   Cataracts
   Canine Glaucoma
   Progressive Retinal Atrophy (PRA)
   Heat stroke
The Siberian Husky does not do well in high heat. In hot weather, take extra care to keep your dog cool and well hydrated.
All breeds of dogs should be brought in for regular vet checkups. It's important for every type of dog to stay current on all shots and vaccinations.
Coat & Coat Care
The Siberian Husky has an exceptionally thick double coat that includes a dense undercoat and a longer topcoat of short, straight hairs. Their undercoats are short and warm, while the overcoats are long and repel water. This coat protects the dogs effectively against harsh Arctic winters and reflects some heat in the summer.
This breed sheds twice a year and needs daily brushing during those times. Weekly brushings other times will be fine. Bathe only when needed, since frequent bathing will dry out his coat.
Siberian Husky Puppies For Sale
No puppies available at this time.
Dog Breeds Similar to the Siberian Husky