What Do I Need for a New Puppy?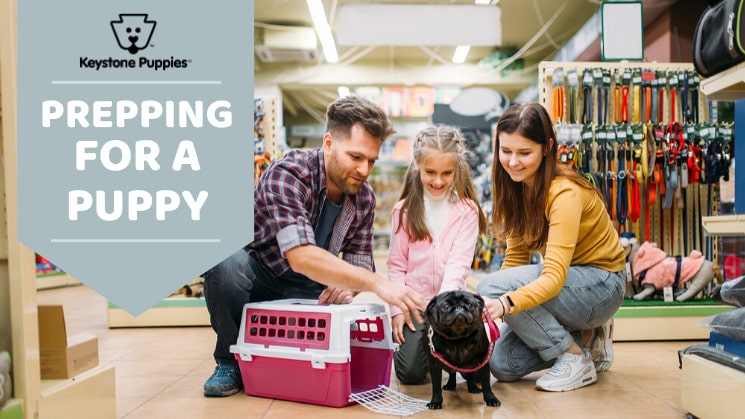 *This post may contain affiliate links and we may earn a small commission when you click the links at no additional cost to you. 
You've got a heart full of love to give and a place in your bed that needs to be filled by a big fluffy cuddler — that's what matters most. But there are a few other essentials you need before you bring home your fur-ever bundle of bliss. In today's blog, we're answering the essential question of, "What do I need for a new puppy?"
At Keystone Puppies, we're a puppy adoption agency that pairs happy and healthy dogs with families all over the country. In addition to having the cutest dogs (of almost every breed), we also provide first time puppy parents with the need-to-know info to make your puppy adoption as pleasant as possible for both you and your new best friend. Read on to learn exactly what you need for a new puppy – and what you can expect when you bring them home.
7 New Puppy Essentials
Food/Treats – When you're wondering, "What do I need for a new puppy?" think about what you'd want after a long trip – snacks, of course! Making sure you have both a healthy meal and some great treats before your pup comes home is 100% essential.
Bowls – Speaking of those snacks, you're going to want make sure they have somewhere to eat from, too. So, having at least 2 durable, high-quality bowls is another new puppy essential. If you're planning on taking your dog with you on your adventures, consider a travel-friendly pet water bottle.
A Doggy Bed — And how do you outfit their new kingdom? With a bed fit for a king (or queen)! Getting the right-size doggy bed ahead of schedule means that their first night under your roof will be full of the cozy comfort that they deserve. Shopping for their first doggy bed is easy — but you may have to upgrade as they get bigger! Check out specific dog beds made for small dogs and big ones!
A Leash and Collar — You're going to remember your first walk together around the neighborhood for a long, long time. Having a good leash and collar you are comfortable using is key. This is another one of the puppy essentials you want before your fluffy friend moves in.
Chew Toys — Chew toys play an important role in the life of a growing pup. Firstly, chomping on a chew toy is a natural way for dogs to soothe any mild anxiety that they might be feeling from the big move. This best-selling chew toy set for puppies offers a variety of fun options to help you figure out which type of toy your pups like best – while also providing ample teething aid during development.
Puppy Pads — While Puppy Potty Training Pads might not be the most exciting new piece of puppy swag on our list, they are crucial to have on hand before your new friend comes home. Though potty training should be pretty easy, there's no harm in having these pads and a natural pet stain and odor removing spray as backups on hand for the first few weeks.
This is just the beginning of the countless things you'll buy your pup for birthdays and holidays – and just because!
Related Reading: Learn ALL about how to puppy proof your home.
Find Your New Puppy with Keystone
Now that you have the answer for, "What do I need for a new puppy?", you just need your perfect pup! Dog lovers from all across America choose us for two simple reasons:
We ensure that our puppies are happy and healthy — Unfortunately, there are bad breeders and bad companies that sell unhealthy and mistreated puppies. At Keystone Puppies, we reject ALL puppy mills and would NEVER work with them. Because we maintain high health and welfare standards, we are able to offer a puppy health guarantee.
We offer an EXTREMELY wide selection of breeds — Another reason that we are trusted from coast-to-coast is that we represent breeders that have a huge selection of purebred and designer dogs.
See our puppy breeds right here.
When you're ready to bring home the newest member of your fur-ever family, we're ready to help. Start searching for your puppy today!
Shop more puppy training essentials here!