Australian Shepherd - Mini Puppies for Sale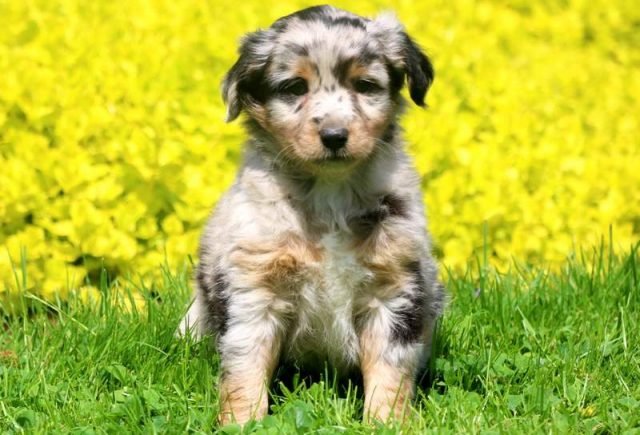 Pick a Pup
Breed Characteristics
Size
Activity
Children
Other Dogs
Shedding
Watch
Guard
Trainability
Overview
The Miniature Australian Shepherd was first bred in the United States. This breed was created by breeding the smallest of the smallest Australian Shepherds. This type of breeding eventually produced a consistently small Australian Shepherd which was then called the Miniature Australian Shepherd. This breed is great for herding just like the Australian Shepherd.
Country of Origin: United States
Weight: 20 - 40 lbs
Height: 13 - 18 inches
Color: Their color is liver/red, liver/red merle, blue merle and black.
Temperament
The Miniature Australian Shepherds are affectionate, playful and athletic. This breed is active, alert and they make wonderful watchdogs. They are great with children and well behaved which makes them wonderful family pets.
Health
The Mini Australian Shepherd life expectancy is between 12 – 15 years. This breed has little health concerns to watch for. They are a health breed but do have a few concerns:
Eye Disorders
Hip Dysplasia
Allergies
Coat & Coat Care
This breed has a double coat. It is medium in length with a slight wave to it.
Brushing 2 – 3 times weekly will help maintain their healthy coat. During shedding season they will require extra attention.
Australian Shepherd - Mini Puppies For Sale
No puppies available at this time.
Dog Breeds Similar to the Australian Shepherd - Mini
Looking for Australian Cattle Dog puppies for sale? As the name implies, this breed originates…

About this breed

Want to bring home an adorable Mini Aussiedoodle puppy for sale? You've come to the…

About this breed

Want to bring home an adorable Shetland Sheepdog puppy for sale? You've come to the…

About this breed