Keystone Puppies' Guess The Dog Breed Quiz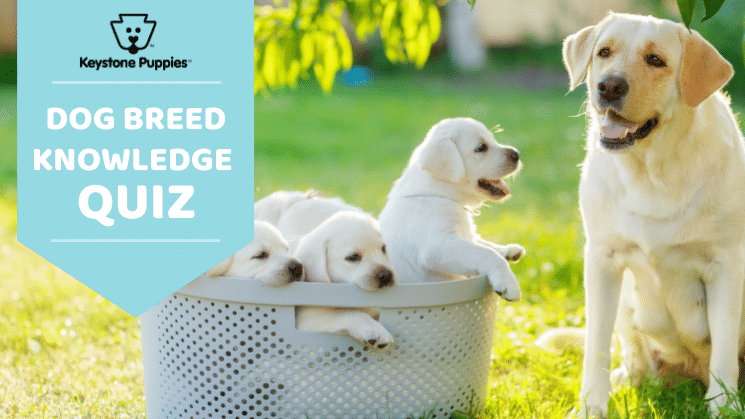 Think you can tell a Cavapoo from a Cavachon – or a Goldendoodle from a Mini-Poodle? Here's your chance to prove your puppy IQ! We've put together a Guess the Dog Breed quiz where you try to tell the lineage of a pup from looking at a picture!
At Keystone Puppies, we're a puppy adoption agency that connects a wide range of puppies with loving families throughout the country! We only work with reputable breeders that meet our extremely high standards for puppy care and welfare. This is one of the main differences that sets us apart from all of the rest! Try your paw and guess the dog breed by a picture right here:
Discover a Huge Variety of Dog Breeds
Whether you can identify all of these breeds or you ended up learning something – our breed quiz is all in good fun. The main goal is to teach everyone a little more about some of our favorite breeds. When it comes to finding the right dog to bring home, you have more choices than ever before. Learning about and meeting (either virtually or in person) as many different breeds as possible helps you find the right one to join your fur-ever family.
While the classic breeds like Golden Retrievers, Boxers, and English Bulldogs are as popular as ever, they are joined by an ever-expanding list of designer dogs. In fact, we love representing unique and designer breeds, which is why we feature so many of them in our Guess the Dog Breed picture quiz!
Many of these designer mixed breeds offer the very best of both of their parents. For example, mixing a breed with a poodle often means that the children will have adorable poodle curls, sharp intelligence, and they likely won't shed and may even be hypoallergenic. Purebred or designer dog – no matter who you end up bringing home, we want it to be puppy love at first sight!
Love taking quizzes and need some assistance finding your pup? Find the perfect dog for your personality!
The Keystone Puppies Difference
We hope you have fun trying to guess the dog breed by picture, however, if you're ready to have some real fun – check out our available puppies right here! When you're looking through our pages of pooches, we want you to feel 100% confident that you're looking through a list of happy, healthy dogs from good breeders. In order to qualify, our accredited breeders must voluntarily meet the highest standards for care, health, and more. This is one more way that we give you peace-of-mind when searching for your four-legged friend!
We always recommend potential Keystone Puppies parents to look at our reviews. Not only are we proud of how we stack up against other puppy adoption agencies, but hearing from real people gives you an idea of what the experience of working with us is like. If you haven't taken our Guess the Dog Breed quiz, we encourage you to put your puppy knowledge to the test. However, if you're ready for some hands-on puppy experience with your own cutie, check out all of our puppy breeds!