What is the Best Dog Breed for Me? An Interactive Dog Breed Selector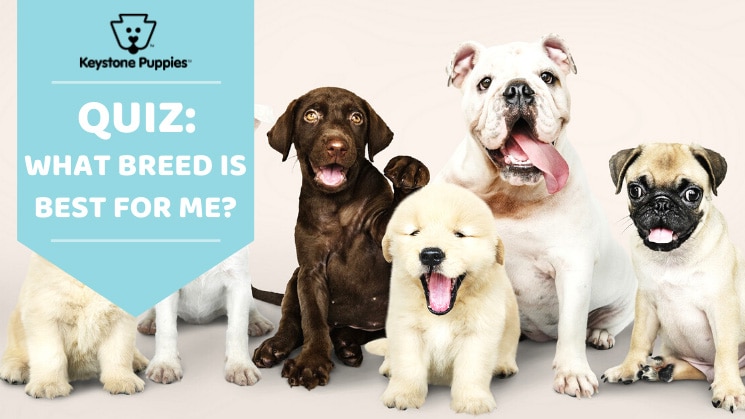 Almost any dog breed is cute enough, sweet enough, or strong enough to send you full speed down the road of shameless puppy love. But puppy breeds that capture your heart and puppy breeds that will work for your lifestyle are two VERY different requirements. Adopting a new puppy is no mindless task. There's countless hours of mental preparation, emotional preparation, and house preparation that goes into making sure the adoption process is as perfect as possible for your new pooch!
The good news is that Keystone Puppies is here to take as much stress off of you as possible. That's why we built our dog breed selector quiz – to help you determine what dog fits you best! Take our short quiz and find get the answer to your question, "What is the best dog breed for me?".
Determining the Best Dog Breed for You
If you find yourself wondering, "What dog breed should I get?" it's best to start by asking yourself a few questions about your lifestyle. The puppy that will fit you best is the one that aligns most with your current daily routine. There are 4 main things to consider when it comes to finding the best dog breed for you:
The size of the dog you prefer
The amount of time you have to dedicate to your puppy
The size of your house and yard
If there are any allergy sufferers in the house
From little lapdogs to stealthy guard dogs, our specialized dog breed selector quiz will find you your ulti-mutt best friend. By answering these questions honestly, and by being open to our expert's suggestions, you'll be able to find what dog breed you should get. However, if you'd like to explore even more puppy breeds available through Keystone Puppies, check out our website.
The Dog Breed Selector Process:
If you feel as if you are ready to bring home a new puppy, the next step is deciding what the best dog breed for you actually is. Our new dog breed selector quiz has been custom created for this purpose alone! By completing our easy-to-use quiz, in under 5 minutes, you can have a better idea for what dog fits you best.
Let Us Help Find What Dog Fits You Best!
At Keystone Puppies, we're passionate about more than just finding every puppy a home – we're passionate about finding every puppy the right home. In addition to pairing a pup with a parent, we want to ensure a safe, reliable environment where dog lovers can connect with breeders and dogs.
Bringing a new puppy home and not sure what you need? Check out these top-rated puppy essentials!
Keystone Puppies is an online agency representing some of the most reputable puppy breeders in the East Coast. Every one of our certified breeders promises puppies that are vet checked, vaccinated, healthy, and cared for.
Stop waiting to find out what dog fits you best and take our quiz today!