8 Things You Need for Your New Puppy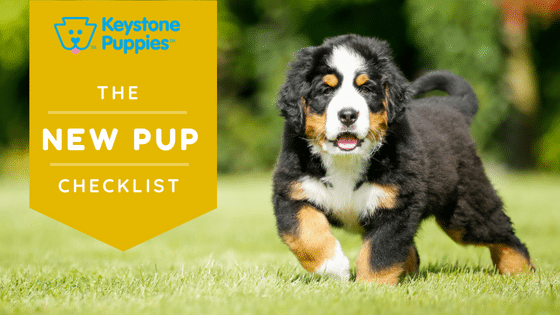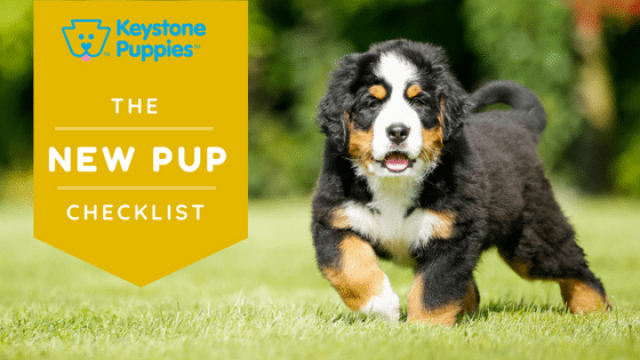 Getting a new puppy is exciting. Everyone in your household is eagerly awaiting the arrival, and you can't wait to meet your new best friend.
To make the transition as stress-free as possible, it's important to prepare for the new arrival of your puppy. Of course, you'll need to have food for the pup. Be sure to check out our blogs on tips for feeding large breed dogs, and tips on feeding small breed dogs. If you're thinking about giving your dog people food on occasion, remember that not all people food is good for dogs, and some people food can be deadly. Be sure to read the Keystone Puppies blog on which people foods are safe for your dog.
When you get a puppy from Keystone Puppies, they come with a health guarantee and are vet-checked. Most are dewormed and vaccinated, But you still need to take your new pup to a veterinarian, get him checked out, and make sure your pup is healthy.
It's also smart to talk to your vet about your breed and any special considerations. This is also a great time to ask any other questions on care, behavior or health that you may have. That's why it's important to take time to research vets before you get your pup. For tips on choosing the best veterinarian for your puppy, click here.
Once you have decided on which food you will feed your pup, and which veterinarian you will use, there are a few more things you'll want to have on hand to make sure your puppy is well-cared for and happy.
1. Make Sure Your New Puppy has a Collar and Tags or Chips
Collars are important for a few reasons. They give you a safe and painless way to control or hold your dog as you train him. You'll also need a collar to hold your dog's ID tag. Collars also allow you to use a leash.
It's important to find the right size. After all, if the collar is too big, the dog can slip out of it easily. If it's too small, you may rub off fur or even restrict breathing.  If it is too large it may fall off; but if it is too small, it can become painful. Here are the most important steps to choosing the right size dog collar for your pooch.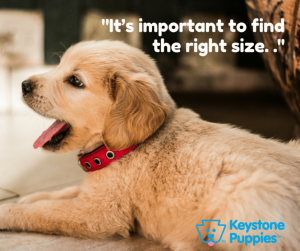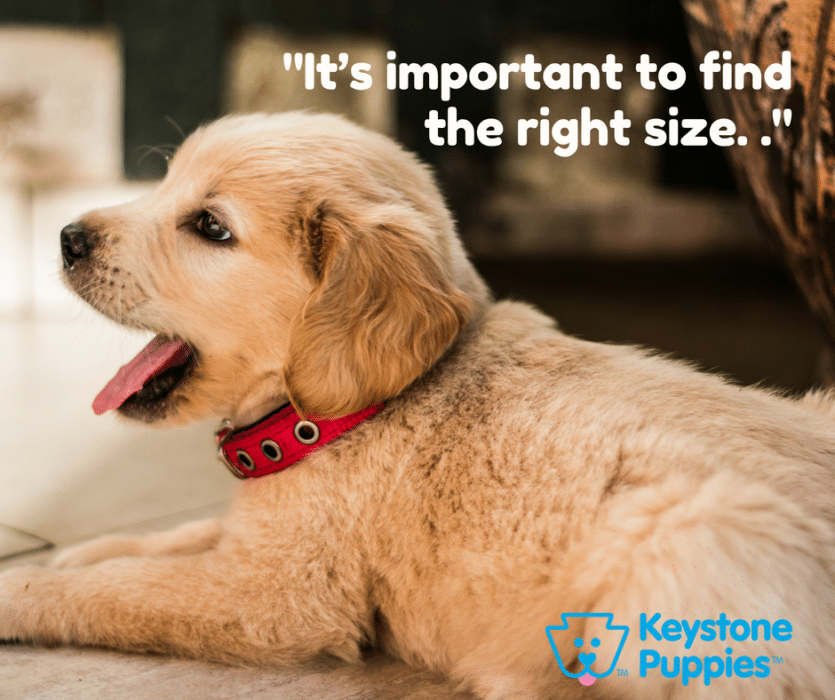 Many collars are sorted by length. To know which length is right for your pup, measure the circumference of his neck. Once you know this measurement, add a bit of room for comfort. A good rule of thumb is: add 1 inch for dogs weighing less than 10 pounds. Add 2 inches for dogs weighing between 11-75 pounds. Add three inches for dogs over 75 pounds.
And remember that your puppy will grow quickly. You may want to get a collar that can grow with your pup. Some collars can expand substantially, but it's likely that you'll need to buy one or two collars as your dog grows, so you may not want to start with an expensive collar, knowing your pup will grow out of it quickly.
2. Make Sure You Puppy has Identification
You'll also want to get ID tags, available at most pet stores and online. Put your pup's name, your address, and your phone number. Some people also include their email address. The idea is to make it very easy for people to contact you if they find your dog.
More and more people are also investing in ID microchips. If your pet is turned into a shelter or a vet, they can scan the pet, and can learn your contact information from that chip.
You can also find pet trackers to attach to your puppy's collar that uses GPS technology to allow you to track your pup's location on your phone.
3. Register or License Your Puppy
Many cities and local governments require you to register your dog and to purchase a dog license. Your licensed dog will get a small tag to put on his collar. Getting a dog license not only ensures you comply with local laws, but it may help you avoid fines. Many areas will fine owners who can't prove their dog is licensed.
Licensing your also makes it much easier for shelters to reunite you with your pup. Shelters use license information to match dogs with owners. Additionally, since cities require up-to-date vaccination records in order to issue a license when people find a lost dog with a dog license, they won't suspect disease or rabies.
And if that's not enough motivation for you, many local governments use licensing fees to fund local shelters.
4. Get a Leash for Your Puppy
You will find that using a leash is an easy way to control your dog during training sessions. Any time you leave your home, your dog should be on a leash. Leashes not only allow you to keep track of your dog, and maintain control of him, they also comfort others who have children or may fear dogs themselves. Leashes not only help you, but they are also a signal to others that you are controlling your dog and keeping him safe.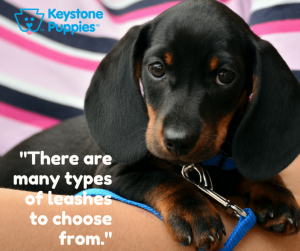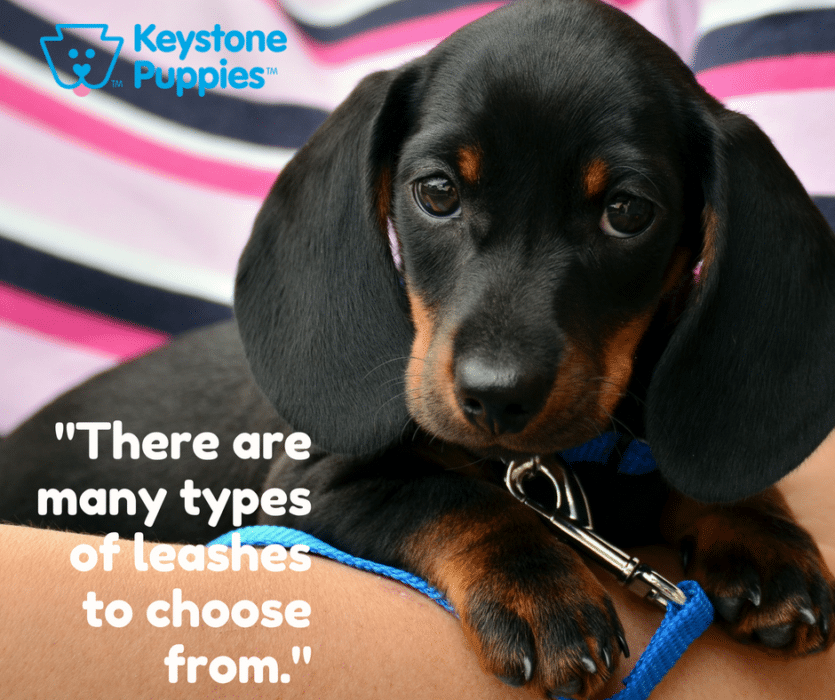 Leashes are also important for walks. Even if you are in a home with a large, fenced-in yard, dog walks are still beneficial. Walking your puppy helps him socialize with his surroundings (find out more about socialization here.) Taking him on walks every day is a way for you to bond with your dog, and to teach him how to interact with other people, small animals like squirrels or rabbits, and how to behave around other dogs that you meet, or that you pass on your walk.
There are many types of leashes to choose from. Choose a leash that matches the size and strength of your dog. If he's tiny, you don't want a heavy-duty leather leash. If he's large, you want something that can hold up to his strength. Remember that the leash will be a way for you to control your pup and to train them to obey your commands.
There are a variety of materials to choose from. Nylon is a common material. It's tough and durable, and usually affordable. However, if you have a large breed with strong jaws, they may be able to chew through the nylon. For example, Rottweilers have been known to casually chew through a nylon leash as their owners have a quick conversation with a neighbor.
Leather leashes can be quite handsome, but they are also easy for dogs to chew, and, unlike nylon, leather is a tasty treat for some dogs.
Chain leashes are appropriate for some dogs, those the weight of the metal may be too much for smaller breeds. Because of their weight, chain leashes are usually shorter.
If you and your dog like to walk at night, you may want to look into reflective leashes for additional safety.
There are different lengths of leashes, adjustable leashes, and retractable leashes that allow your dog to stay close or roam 20 or 30 feet away. Choose the leash that makes the most sense with your needs, your dog's temperament, and your style of walking or controlling your dog.
If you have a rambunctious pup that is hard to control, you may want to invest in a harness. A harness fits around your pup's torso. You then clip your leash to a ring that is above your dog's shoulders. Many dog owners find a harness give them more control over their pup.
Some people find that a gentle leader is an effective way to curb your dog's desire to pull you along. A gentle leader is placed over your dog's nose and will tighten when they pull against you. This can be an especially helpful device if your dog is stronger than you. Fair warning – no dog likes this device. While it isn't painful, it does instantly frustrate their desire to pull. Most pups will fight it or paw at it at first. But with a little patience and consistency, the gentle leader will teach most dogs to stop pulling, and allow their master to set the pace. Many dog owners find the gentle leader is only needed for a week or so, and once their pup has learned a new pattern, the device is retired.
5. Food and Water Bowls for Your Pup
As your dog grows, you'll find your food and water bowl needs change. For small puppies, using household bowls may be fine. As long as you keep them clean and fresh, many puppies like using small simple bowls. Make sure your dog can access them easily, and that the bowl is not too shallow (they shouldn't be pushing the bowl around) or too deep (they need to access food easily.)
For larger puppies, or for grown dogs, you may want to buy dishes created for the purpose. Use your dog's eating style and physical needs as a guide. Dog dishes can be elevated, come with rubber grips, be large and deep or small and narrow.
If you use canned food, you may want to wash your bowls more often. Consider getting two sets. If your dog is older or very tall, elevated dishes may be needed to prevent back pain. Dogs with long ears, or droolers, often drip water around the bowl. Consider getting a plastic dog mat to protect your floors and make cleanup easier.
6. Dog Treats Will Make Training Your Puppy Easier
Just like people, dogs love treats, However, many types of people food are unhealthy for dogs. Having dog treats on hand enable you to give your dog a reward for good behaviors, and will make training much easier.
When choosing dog treats, don't limit yourself to one type of treat. Some treats have great dental benefits but should be limited to one per day. Some people like to make their own dog treats (get recipes here), while some dog treats, especially soft treats, can be higher in salt, fat, or calories.
It's also important to keep your dog's size in mind. Choose treats that are easy for them to chew and eat quickly. Keep the size of their mouth, teeth, and stomach in mind. When in doubt, choose small treats, or break the treats into smaller pieces.
7. Don't Forget Puppy Toys
Never underestimate the value of a few good dog toys. The right toy can provide play, companionship, and comfort for your new puppy. Toys also give dogs a sense of belonging – they have things that are just for them. And of course, toys are fun and provide your puppy with new ways to play, romp, and chew.
Toys fall into a few categories. Each dog is different, and not all dogs will love all toys equally. Try a few out and see what works best for your dog.
Tug toys – these toys allow you to play tug with your pup, and many dogs like carrying these toys around in their mouths or throwing them
Plush toys – some dogs snuggle with them, others hunt and destroy them, which other pups simply ignore them.
Balls – most dogs love balls. Whether they use them to chew, chase, romp, or fetch, find a ball that fits comfortably into your pup's mouth without being so small that it can be swallowed or a choking hazard.
Food toys – these toys were developed as a way for your pup to work for their food. Some of these toys are true puzzles that require dogs to figure out processes. Others are simply unusual shapes that allow you to hide kibble or a dab of peanut butter in the middle.
Fetch toys – You're probably familiar with this one. You throw. They fetch. Some dogs can't get enough of fetch. Other are uninterested. You'll find out quickly which kind you have.
Experiment with toys to find out which ones are most appealing to your pup. Be careful with toys that contain bells or squeakers, since they can become choking hazards. Also, watch your pup with plush toys. If he destroys them, the stuffing and casing should be cleaned up quickly so he doesn't eat it.
8. Stock up on Grooming Tools for Your Dog
Dogs coats and grooming needs vary widely, but no matter which type of dog you get, you should have some basic brushes and towels set aside for regular cleaning and grooming.
Some breeds can be prone to ear infections or eye buildup. For these breeds, keep clean clothes on hand for regular cleaning.
For more detailed grooming tips, check out our blog on coat care.
****
It's important to be prepared for the arrival of a new pup in your life. Make sure you understand what is required to keep your new puppy safe, happy, healthy, and well-adjusted. If you're unsure what kind of dog is right for you, research breeds here. If you're ready to look for your dog, start here.