How to Find a Vet for Your New Puppy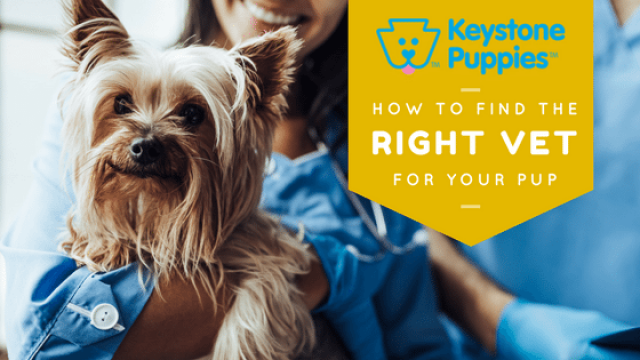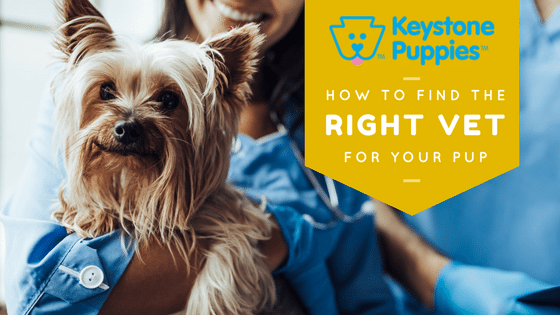 Getting a new puppy is an exciting process. But not every decision you'll make is fun or easy. As soon as you get your adorable Keystone Puppy, you must take them for a vet visit to confirm health, and get them scheduled for regular checkups. That means you'll want to do your research on your new vet even before your new friend arrives.
How do you find the best vet for you and your puppy? Here are some tips to get you started.
1. Find Your Pup's Vet by Asking for Referrals
The best vets are usually easy to find. Ask your family, friends, neighbors, or co-workers who they use. Ask them how long they've used their vet, and ask them what they like best about their pet care provider. Pay special attention to recommendations given by people with the same type of dog, since you'll want a vet who understands the requirements of your puppy's breed. As with most referrals, you'll quickly get a sense of exactly how good the vets are. Excellent vets have fans who rave about them. "Just okay" vets get indifferent recommendations. Ask around and you'll learn a lot.
2. Choose a Vet Who Knows Your Breed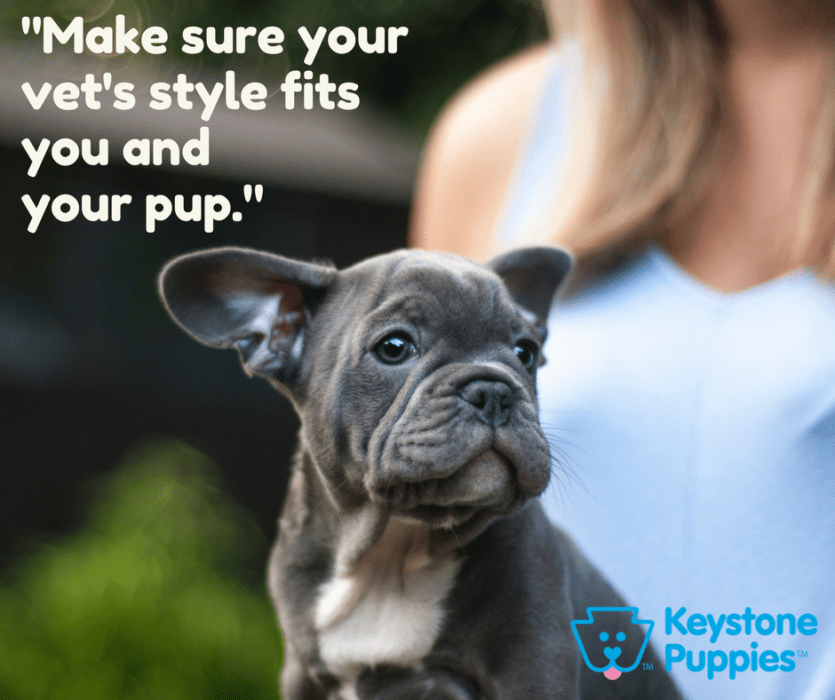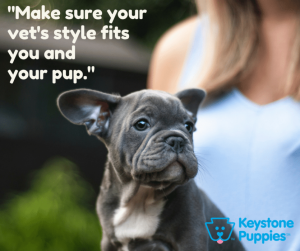 Does the vet have experience with your breed? After all, many categories of dog have special medical considerations or conditions to keep an eye on. Make sure the vet you choose is not only familiar with your breed but is also familiar with their most common health problems. How many other similar dog breeds do they have as patients? If your vet regularly encounters your breed, they will understand special diet and exercise requirements. They're also more likely to catch and treat early signs of health issues.
3. Know Where to Take Your Dog in Emergency Situations
Accidents happen. That's why it's important to talk with your veterinarian upfront about emergency protocol. Does your vet provide 24-hour service? Do you call a different number in an emergency? Does the practice work with an emergency clinic or emergency hospital? Does their emergency protocol fit your needs better than other office's policies? Once you decide on a vet and know the emergency process, keep the name, number and address, and emergency phone numbers posted at home and stored in your phone.
4. Talk to Your Vet About Health Insurance for Your Dog
Pet health insurance is often helpful in offsetting veterinary bills. If you've gone through the effort and expense of getting pet health insurance, make sure the vet you choose works directly with your insurance. That means your vet should submit claims to the insurance, and work with the adjudication. Ideally, the vet's office will bill you only for the portion that is not covered by insurance. If you haven't decided on a pet insurance, click here for the American Veterinary Medicine Association's selection guidelines. Bonus for Keystone Puppy customers: when you choose a Keystone Puppy, you can also get a 10% discount off Pets Best pet health insurance. Be sure to use the promo code "Keystone" to get your discount!
5. Review Possible Payment Options
As a responsible pet owner, you'll need to take your pup to the vet on a regular basis to ensure its best health. But vet bills can add up. Whether you're there for a routine check-up or an emergency X-ray, don't be shy to ask about costs up front. Unless you have pet insurance, most vets have a policy of payment on the day of treatment. However, you should feel comfortable enough with your vet to ask if you can space out payments for more expensive procedures when needed. As noted above, pet insurance may be a way protect yourself against large, unexpected expenses.
6. Make a Match With Your (and Your Dog's) Personal Style
Make sure your vet's style fits with you and your pup. And remember that the vet isn't the only person who will interact with your pet. How do the receptionist and staff behave? Are they open and friendly, or do they seem stressed and overworked? Is their attitude keeping the dogs (and owners) calm? Does your puppy like them, or does he growl or cower? The vet and everyone who works with the vet should project a positive energy that makes you and your pet feel comfortable and confident.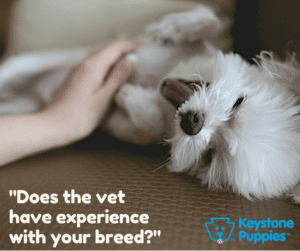 7. Know Hours of Operation
Hours of operations are a deal breaker. Ask how your vet handles emergency patient visits, and find out about after-hour needs. Some vets open very early in the morning, and some offer evening hours. Weekends are an option for more and more vets. Make sure their schedule works with your lifestyle. Figure out what works best for you and your dog.
8. Less Travel Time Means Less Stress for Your Pup
Of course, location won't matter if the closest vet doesn't meet your criteria. But if you're lucky enough to have more than one good choice, choosing a nearby vet is an asset. After all, dogs can get stressed about visits to even the kindest of vets, and your pup will experience less stress on shorter rides to and from the office. Proximity is also an important benefit when you have a pet emergency.
9. How Will Your Dog Do in the Waiting Room?
While some people think a busy waiting room signifies a busy practice, don't be fooled. Full waiting rooms can also be the sign of a vet who doesn't schedule enough time for each pet or habitually runs behind schedule. Just like full waiting rooms in doctor offices, vet offices with loaded lobbies can mean your pet will be exposed to more ailments. Waiting rooms full of restless animals are also stressful for your pup. Quiet, well-managed waiting rooms are one sign that your vet takes your pet's comfort seriously.
Bonus Tip: Dog Behavior Isn't the Only Thing That Matters
You've probably thought a lot about your dog's behavior, but did you know that it's actually your behavior that will set the tone for your relationship with your new vet? Here are some bonus tips to help you build a stronger bond with your vet.
Schedule Regular Visits for Your New Pup. Schedule regular preventive visits as suggested by your vet. Don't wait until your pup becomes ill.
Research Your Dog's Breed. Learn what's normal for your pet. As a dog owner, you should be able to recognize the first signs of illness. If you're concerned about your puppy, don't wait to call your vet. Almost any condition can be more effectively treated with early intervention.
Give Your Pup Potty Breaks. Give your dog a quick walk right before entering the vet's office. Nervous puppies are especially prone to piddling. Give them ample time to empty their bladder before entering the building.
Leash Your Dog. Keep your dog on a leash, and use a harness or muzzle if needed. Remember that many dogs become stressed at the vet's office. Even the most docile pups can be unpredictable if they feel threatened by other pets, children, or adults. It's your responsibility to maintain control of your dog in all public areas. Better safe than sorry on this one.
Watch the Clock. Be on time for appointments, but also be patient if the vet occasionally runs behind. Emergencies happen.
Make Sure Your Dog has an Appointment. Always call ahead before visiting, even for emergencies. The vet will have to work your pet into the schedule, and calling ahead ensures the least stress for you and your pet.
*****
Keystone Puppies cares about your dog's health. Be sure to find a good vet before you bring home your new best friends. If you haven't decided which breed of dog is right for you, research over 200 breeds here. Want to search for your new puppy now? Click here to get started.