Teddy Bear Dog Breeds for Cuteness and Cuddles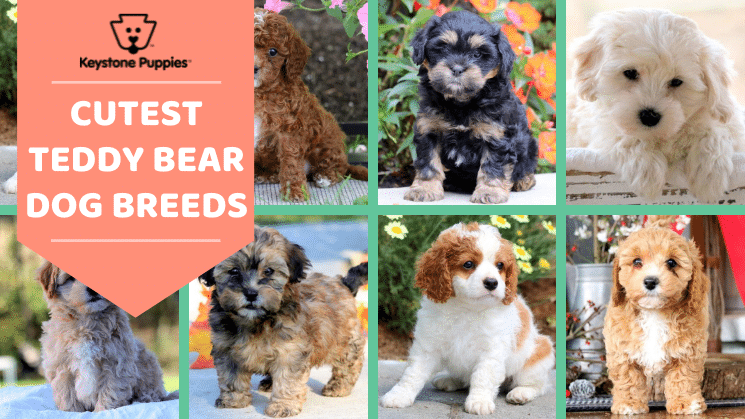 Cuteness is pretty subjective, unless you're talking about teddy bear dogs – then it's pretty much an irrefutable fact! However, teddy bear dogs aren't just one specific type, but a variety of breeds that share similar lovable looks and charming characteristics. We'd love to introduce you to the most popular teddy bear dog breeds, while highlighting what makes them a wonderful choice for your family!
At Keystone Puppies, we're a dog adoption agency that pairs a variety of healthy, happy puppies with loving forever homes. Teddy bear dog breeds are one of the most sought after choices for the newest addition to so many families – due to these pups craving cuddles and being absolutely adorable. See the 6 breeds that we count as teddy bears and meet the puppies you can bring home today!
The Six Types of Teddy Bear Puppies You Need to Meet
The teddy bear dog breed's most notable characteristics are their small and expressive teddy bear-like faces, slight statures, and cuddly temperaments. Of course, since there are multiple different breeds, these signature traits can differ slightly.
1.
Shichon
One of the most popular types of teddy bear puppies, the Shichon was bread for playfulness, friendliness, and a distinct look. While this designer breed is often playful, it doesn't need a ton of exercise, so it is an extremely easy to pup to have around the house. What's even more surprising is that this sweet and kind canine also gets along with cats!
2. Shihpoo
Another classic teddy bear puppy, the Shihpoo mixes the Shih Tzu with the Poodle for a quality companion. The tiny round faces and slim frames of this mixed breed are sure to remind you of your favorite stuffed animal come to life. You can absolutely count on your new Shihpoo to be right at home in your lap and fully satisfied snuggling in for a night in front of the TV.
3. Maltipoo
These teddy bear puppies have a few quirky personality traits that homeowners fall in love with! While they aren't what you'd think of as a traditional watchdog, they are very alert and definitely notice when new people come to your home. Of course, they are quick to make friends and love being petted and held by new people. Their Poodle curls are very pronounced, so regular brushing is a must! Take a look at this top-selling dog brush for teddy bear puppies.
Meet Maltipoos >
4. Mini Golden Doodle
One of America's favorite mini dogs and favorite teddy bear puppies, Mini Goldendoodles pair the loyal personality of a Golden Retriever with the intelligence of a Poodle. Plus, the gorgeous golden curls they inherit make them look like picture-perfect stuffed bears. Finally, F1B Goldendoodles are often hypo-allergenic, which means that even people with mild allergies can get in on the snuggle fest with these pups!
Meet Mini Goldendoodles >
5. Cavapoo
The super soft and fluffy coat of a Cavpoo is their signature trait – and it truly adds to their teddy bear appearance. Obedient and easily trained, Cavapoos are one of the easiest breeds to own for new dog owners. Plus, they are known for loving kids, which is great news because your kids are sure to love them, too!  See more of our picks for the easiest dog breeds to own.
Meet Cavapoos >
6. Bichpoo
Of all of the teddy bear dog breeds, a Bichpoo may look the most like a teddy bear come to life. That all comes down to their adorably small faces, big expressive eyes, and fluffy coat made of tight curls. An intelligent breed, the Bichpoo likes to learn and perform tricks. Like all great lapdogs, the Bichpoo adores getting close to the people they love, and they need a certain amount of attention, so they don't become lonely!
Meet Bichpoos >
An Important Note about Where You Buy Dogs
Sometimes we hear from potential puppy parents who are worried that when they buy a dog, they are inadvertently supporting a puppy mill. When you work with Keystone Puppies, you can be 100% confident this isn't the case. Not only are we actively working to stop puppy mills, but all of our breeders are held to extremely high standards for puppy care, welfare and happiness!
Learn more about what sets our accredited breeders apart!
One of the best ways to know you are working with a kindhearted and reputable breeder is to ask to visit their facilities to meet the puppies and the mom. If they are doing it right, they are more than likely to welcome you to visit with open arms – rather than hiding their puppy breeding practices!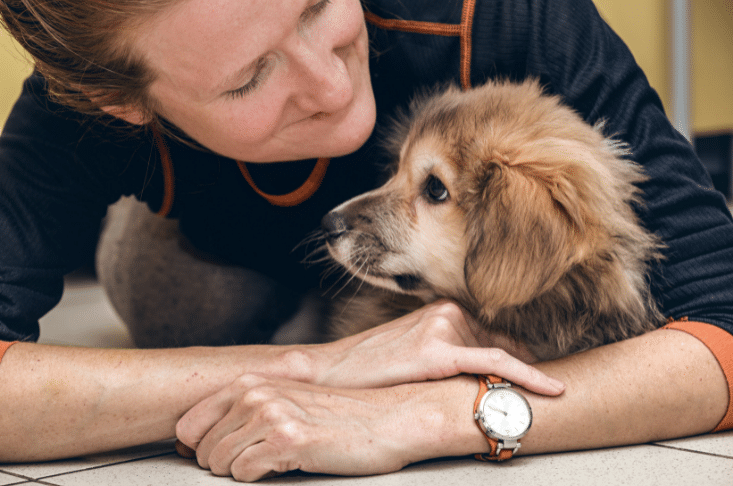 Adopt Teddy Bear Dog Breeds Today
If one of these teddy bear dog breeds sound like the perfect addition to your family, we'd love to help you bring them home. Plus, no matter where you live in the USA, you can find your four-legged best friend here and we'll arrange the transportation for you! We encourage you to check out all of these different breeds or meet all of our new arrivals!