Weimaraner Puppies for Sale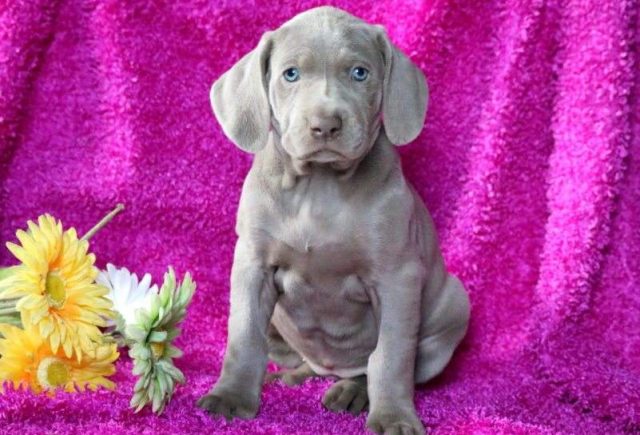 Pick a Pup
Breed Characteristics
Size
Activity
Children
Other Dogs
Shedding
Watch
Guard
Trainability
Overview
The Weimaraner breed is thought to have been bred purposely by the Grand Duke Karl August of Weimer for a hunting dog. The Germans were known for their developing of wonderful hunting dogs and the Weimaraner was proof of it. This dog is thought to be a biological ancestor of the Vizsla. The Weimaraner came to the US after World War II but did not become popular until the 1950's.
This breed was first registered by the AKC in 1943 and was grouped as Sporting.
Country of Origin: Germany
Weight: 50 - 75 lbs
Height: 22 - 27 inches
Color: The Weimaraner is mouse gray to silver gray usually blending in lighter colors on the head.
Temperament
The Weimaraner is intelligent, alert, affectionate and fun-loving. This breed loves to hunt and has a strong prey instinct. Firm training is necessary for this breed to keep them from becoming stubborn. They will try to be the leader if they are not shown that they are not. The Weimaraner has a ton of energy and makes for a great watch & guard dog.
Health
The Weimaraner life expectancy is between 10 – 13 years. Here are some health issues to watch for in this breed:
Bloat – When the dog eats too much/too fast
Hip Dysplasia
Tumors
Coat & Coat Care
Their coat is short and smooth. There is a rarer longhaired coat also.
Their coat is easy to maintain. I quick brushing once a week will do.
Weimaraner Puppies For Sale
No puppies available at this time.
Dog Breeds Similar to the Weimaraner
When you think of "man's best friend," what breed could be a more quintessential companion…

About this breed

Want to bring home an adorable Vizsla puppy for sale? You've come to the right…

About this breed