Rottweiler - Miniature Puppies for Sale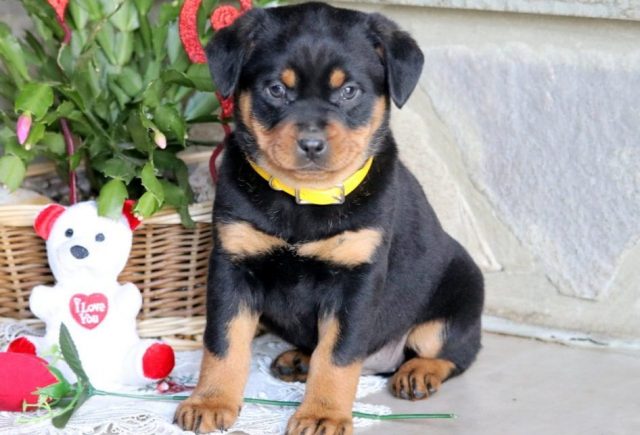 Pick a Pup
Breed Characteristics
Size
Activity
Children
Other Dogs
Shedding
Watch
Guard
Trainability
Overview
The Miniature Rottweiler is a designer breed created through the cross of the Miniature Pinscher, Pug & Rottweilers breeds.
Country of Origin: N/A
Weight: 15 - 40 lbs
Height: 10 inches and Over
Color: Miniature Rottweilers are black with tan/rust or mahogany markings. The tan/rust or mahogany markings appear on the top of the neck, chest, fronts of the legs, inside the legs and eyebrows.
Temperament
The Mini Rottweiler is a very intelligent breed who will do well in a family setting. Giving them a lot of socialization is recommended to keep them from being aggressive towards strangers. They love to be with their family and will curl up on your lap for a nap.
Health
All mixed breed dogs have a better chance of having less health concerns because of their genetic diversity. It is good to know the health concerns of all breeds associated.
Coat & Coat Care
This breed has a short coat which is light and smooth.
Their coats tend to be low maintenance, although they experience heavy shedding usually twice a year. Daily brushing can help prevent having large amounts of hair being shed in your home, especially during seasonal changes.
Rottweiler - Miniature Puppies For Sale
No puppies available at this time.
Dog Breeds Similar to the Rottweiler - Miniature
Looking for a dog that can double as a fiercely protective guardian and a lovable,…

About this breed

The Rottweiler mix can have multiple purebred or mixed breed lineage. One way to determine…

About this breed