Great Dane Puppies for Sale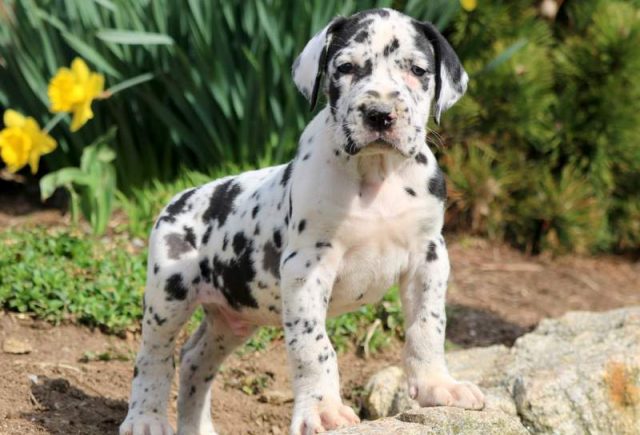 Pick a Pup
Breed Characteristics
Size
Activity
Children
Other Dogs
Shedding
Watch
Guard
Trainability
Overview
The Great Dane is believed to have dated back as far as 2200 B.C. They are thought to have been used as war Dogs and were developed to hunt boar. It is thought that the breed was created to the extent is today by crossing the mastiffs of south Germany with the Great Danes of north Germany.
The Great Dane was first registered by the AKC in 1887 and was grouped as Working.
Country of Origin: Germany
Weight: 100 - 120 lbs
Height: 28 - 32 inches
Color: The Great Dane colors are Fawn, Brindle, Black, Blue, Harlequin and Mantle.
Temperament
The Great Dane is playful, lively and alert. This breed is affectionate, loving and are great with children. They are sensitive and should be treated kindly.
Health
The Great Dane life expectancy is between 7 – 10 years. Some health concerns to look for are:
Hip Dsyplasia
Wobbler Syndrome
Heart Problems
Bone Tumors
Coat & Coat Care
The Great Dane coat is short, dense and smooth.
The Great Dane requires minimal grooming. Brushing twice a week will help remove any dead hair & help maintain their shiny coat. More frequent brushing will be required during seasonal changes.
Great Dane Puppies For Sale
No puppies available at this time.
Dog Breeds Similar to the Great Dane