Airedale Terrier Puppies for Sale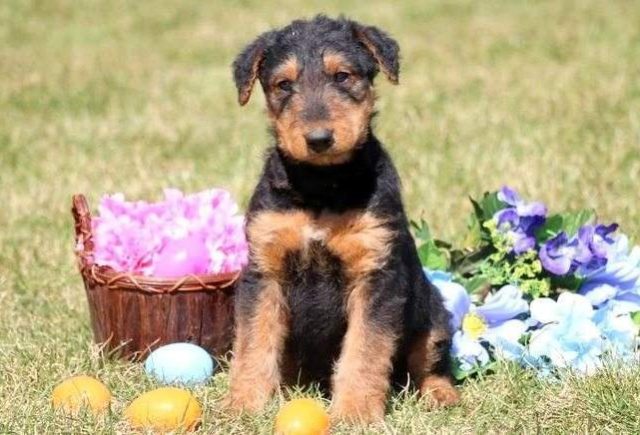 Pick a Pup
Breed Characteristics
Size
Activity
Children
Other Dogs
Shedding
Watch
Guard
Trainability
Overview
The Airedale Terrier was originally known as the Waterside Terrier. The breed was later crossed with the Otterhound to make him a better swimmer. This breed is often called the "King of Terriers". They are known for their small game hunting.
The Airedale Terrier was first recognized by the AKC in 1888 and Grouped as Terrier.
Country of Origin: Great Britain
Weight: 45 - 50 lbs
Height: 22 - 23 inches
Color: The Airedale breed is tan with black or grizzle saddle.
Temperament
The Airedale Terrier will make a loving, loyal companion. This breed is very intelligent and they need room to run. They make great hunters and companions.
Health
The Airedale Terriers life expectancy is between 12 – 14 years. Health Issues to watch for are:
Eye Problems
Hip Dysplasia
Skin Infections
Bloat
Coat & Coat Care
Their coat is wiry, hard and dense.
They should be brushed with a hard bristle brush three times a week because of the amount of hair that they have. Bathe only when necessary.
Airedale Terrier Puppies For Sale
No puppies available at this time.
Dog Breeds Similar to the Airedale Terrier