Puggle Puppies for Sale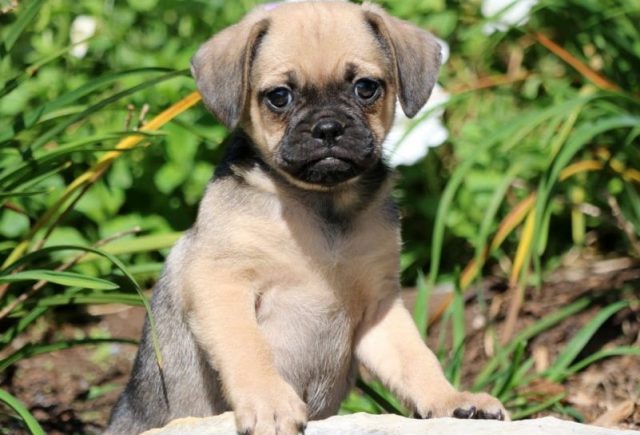 Pick a Pup
Breed Characteristics
Size
Activity
Children
Other Dogs
Shedding
Watch
Guard
Trainability
Overview
The Puggle is a designer breed created through the cross of the Beagle and the Pug breed. The Puggle is recognized by the ACHC (American Canine Hybrid Club). This designer breed can also be registered through IDCR (International Designer Canine Registry) and ICA (International Canine Association, Inc).
Country of Origin: N/A
Weight: 14 - 24 lbs
Height: 10 - 15 inches
Color: The most desirable Puggle color is the fawn with black mask. Another recognizable color is black.
Temperament
The Puggle is easy going, gentle, intelligent and very affectionate. This docile designer breed is very curious and loves to play. They are excellent with children and do well with other pets, making them an excellent family dog.
Health
The Puggle life expectancy is 12 – 15 years. It is important to clean around & between their wrinkles in their face to help avoid irritation and/or infection. Other health concerns to watch for are:
Cherry Eye
Epilepsy
Allergies
Obesity
All mixed breed dogs have a better chance of having less health concerns because of their genetic diversity.
Coat & Coat Care
Their coat is sleek, short & dense and closer to the body.
The Puggle sheds a bit and will need more grooming during seasonal changes. Daily brushing during shedding season will help remove excess dead hair and help maintain a healthy coat.
Puggle Puppies For Sale
No puppies available at this time.
Dog Breeds Similar to the Puggle
The Jug is a designer breed created through the cross of the Jack Russell and…

About this breed

Their bloodlines can be traced to China during the Shang dynasty. Most experts believe the…

About this breed

The Pug mix can have multiple purebred or mixed breed lineage. One way to determine…

About this breed