Labrador Retriever - Charcoal Puppies for Sale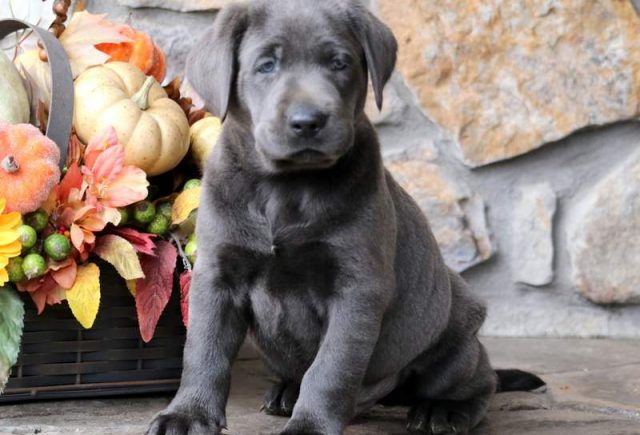 Pick a Pup
Breed Characteristics
Size
Activity
Children
Other Dogs
Shedding
Watch
Guard
Trainability
Overview
The Labrador Retriever originated on the Island of Newfoundland. This breed began from a fishing dog known as the St. John's Dog. In the 19th century this breed began being trained as gun dogs for hunting & retrieving. The popularity of this sporting dog grew throughout the states after World War II and now can be seen in millions of homes. The Lab was first recognized by the AKC in 1917 and grouped as Sporting.
Country of Origin: Canada
Weight: 50 - 85 lbs
Height: 22 - 25 inches
Color: The Labrador Retriever has 3 coat colors. They are chocolate, yellow and black. There is now also a silver and charcoal colored lab.
Temperament
The Labrador Retriever is pleasant, non-aggressive, intelligent and friendly by nature. The Lab has high energy levels and they love to romp in the yard with their families. They are also good swimmers and make great hunting dogs. The Labrador is great with children and loves to be spoiled. Their overall demeanor and companionship make this breed one of the most popular breeds in America.
Health
The average life span is between 10 – 14 years. One of the largest and most common health issues related to the Labrador Retriever is hip dysplasia. Other health issues to watch for are:
Progressive Retinal Atrophy
Cataracts
Elbow Dysplasia
Obesity
Coat & Coat Care
The Lab's coat should be short and dense, but not wiry. The coat is described as 'water-resistant' or more accurately 'water-repellent' so that the dog does not get cold when taking to water in the winter. That means that the dog naturally has a slightly dry, oily coat.
The Lab's coat should be brushed with a firm bristle brush 2 – 3 times a month. The Lab is an average shedder and has a water proof coat that can for the most part self-clean itself.
Labrador Retriever - Charcoal Puppies For Sale
No puppies available at this time.
Dog Breeds Similar to the Labrador Retriever - Charcoal