Goldendoodle - Toy Puppies for Sale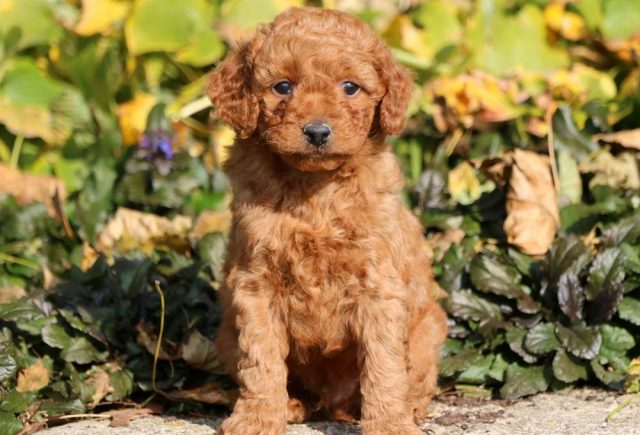 Pick a Pup
Breed Characteristics
Size
Activity
Children
Other Dogs
Shedding
Watch
Guard
Trainability
Overview
The Toy Goldendoodle is a designer breed created through the cross of the F1b Mini Goldendoodle and the Toy Poodle. The Toy Goldendoodles are generally more curly and have an even better chance to be hypoallergenic.
Country of Origin: N/A
Weight: 10 - 20 lbs
Height: 8 - 18 inches
Color: The most common colors are cream, golden and red. Some other colors can be chocolate, black or others. It is also common to have some white on the chest, face or feet.
Temperament
The Toy Goldendoodle is confident, playful & affectionate. This intelligent designer breed is very friendly and enjoys playing with their family. They are excellent around children of all ages & other pets.
Health
Here are some health concerns to watch for:
Allergies
Cancer
Progressive Retinal Atrophy
All mixed breed dogs have a better chance of having less health concerns because of their genetic diversity.
Coat & Coat Care
Their coats is usually curly and short or long to the length. They are usually hypoallergenic and shed very little. Their curly coat should be soft to the touch.
Brushing 2 – 4 times weekly will help remove dead hair and prevent tangling & matting. Bathing every other month can also help maintain their healthy coat. The Mini Goldendoodle should be clipped every 4 – 6 weeks.
Goldendoodle - Toy Puppies For Sale
No puppies available at this time.
Dog Breeds Similar to the Goldendoodle - Toy