Beabull Puppies for Sale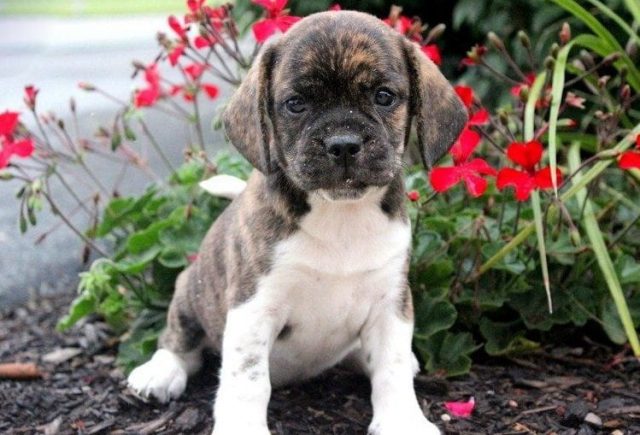 Pick a Pup
Breed Characteristics
Size
Activity
Children
Other Dogs
Shedding
Watch
Guard
Trainability
Overview
The Beabull is a designer breed created through the cross of the Beagle and the English Bulldog breed. The Beabull is recognized by the ACHC (American Canine Hybrid Club). This designer breed can also be registered through IDCR (International Designer Canine Registry) and ICA (International Canine Association, Inc). The Beabull possesses some of the best qualities of each breed including their loyalty, curiosity, docile nature and even their loveable wrinkles. This mixed designer breed is smaller in stature and can easily adapt to living in smaller homes like apartments.
Country of Origin: N/A
Weight: 25 - 50 lbs
Height: 12 - 16 inches
Color: The Beabull can be many different colors and patterns. The more desirable looks of the Beabull are similar to the English Bulldog with also having flashes of white in the face, chest and/or paws.
Temperament
Beabulls are gentle, friendly, affectionate & playful. This breed does excellent with children as well as other dogs.
Family Friendly
Playful
Docile
Loyal
Affectionate
Health
All mixed breed dogs have a better chance of having less health concerns because of their genetic diversity. The average life expectancy for the Beabull is around 10-13 years. Some potential health concerns to look out for in your Beabull can include:
Cherry Eye
Allergies
Hip Dysplasia
Breathing Problems
All mixed breed dogs have a better chance of having less health concerns because of their genetic diversity.
Coat & Coat Care
The Beabull has a short and often dense, finely textured coat that can be water resistant. This designer breed tends to inherit the uncanny wrinkles synonymous with the Bulldog breed. To help your Beabull maintain a healthy coat, be sure to clean between their wrinkles to help avoid the possibility of skin irritation or infection.
Brushing recommended 2-4 times a week
Daily brushing recommended during shedding season.
Their coats can be maintained healthy by brushing 2 – 4 times weekly to remove excess dirt or hair. During shedding season they will require daily brushing to avoid having hair throughout your home. Cleaning between their wrinkles is also important to avoid skin irritation and/or infection.
Beabull Puppies For Sale
No puppies available at this time.
Dog Breeds Similar to the Beabull