Australian Cattle Dog Mix Puppies for Sale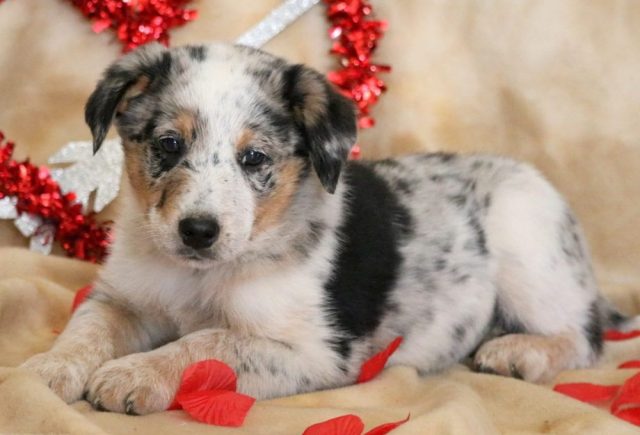 Pick a Pup
Breed Characteristics
Size
Activity
Children
Other Dogs
Shedding
Watch
Guard
Trainability
Overview
Most Australian Cattle Dog Mixes are small to medium in stature and full of personality. This mix is often energetic and has a high level of intelligence stemming from their Australian Cattle Dog roots whose primary purpose of breeding was for wrangling cattle for long distances across terrain. Although any mix can have a long list of lineages that play a factor in their overall personality and traits, most Australian Cattle Dog Mixes are vivacious, quick witted, and fun-loving dogs. You can learn more about your Australian Cattle Dog Mix through a DNA test in order to better trace their exact lineage.
Country of Origin: Australia
Weight: 31–35 lbs
Height: 17–20 inches
Color: The Australian Cattle dogs are blue or red. The blue dogs can be called blue, blue mottled or blue speckled. Red dogs are evenly speckled or all red.
Temperament
Most mixed breeds are bred to possess the absolute best qualities of each breed in the mix. It is important to note that since their ancestors were bred as "working-dogs," these mixes tend to do best when structure and commands are quickly introduced upon house-breaking. "Heel Nipping," is not an unusual trait in these dogs and derives from their cattle herding nature. Although they mean no harm, because of this quirky trait, this mix may do best in families with older children. Australian Cattle Dog mixes are known for possessing the dominant traits of a typical Australian Cattle Dog which may include:
High Energy
Intelligence
Protectiveness of possessions
Loyalty
Independent
Best with older children
Health
Most mixed breed dogs have a better chance of having less health concerns because of their genetic diversity. However, some health concerns that could be common based off of the breed's Australian Cattle Dog roots could include:
Hip Dysplasia
Deafness
Progressive Blindness
Coat & Coat Care
Most Australian Cattle Dog Mixes will possess the typical speckled patterns associated with their Mother breed, however coat coloring can vary. These mixes often have a short double coat. Most mixes will require brushing 1-2 times a week in order to stay properly groomed.
Short Double Coat
Speckled Patterning
Weekly grooming recommended
Daily brushing is recommended to maintain a healthy coat and avoid any matting.
Australian Cattle Dog Mix Puppies For Sale
No puppies available at this time.
Dog Breeds Similar to the Australian Cattle Dog Mix
Looking for Australian Cattle Dog puppies for sale? As the name implies, this breed originates…

About this breed

Want to bring home an adorable Australian Shepherd puppy for sale? You've come to the…

About this breed