How to Tell if a Puppy is Healthy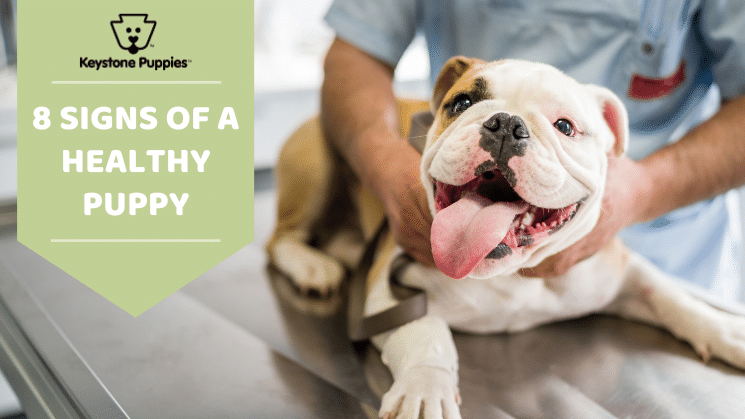 The first meeting with your puppy is all-important. Not only do you want it to be puppy love at first sight – but it's a crucial chance to make sure the puppy is healthy enough for adoption! If you visit the breeder prior to bringing home your new pup, you can take a few moments to bond with your puppy, ask questions, and look over your little bundle of joy. Learning how to tell if a puppy is healthy is an important skill to have in this case – and we have the puppy health guide to help you through this situation.
Since a happy and healthy puppy is of utmost importance to you, trusting a puppy adoption agency with those same values is top priority. At Keystone Puppies, we only partner with the most reputable breeders who provide the best care for their pups. Check out these important signs of puppy health that you can look for when you're introduced to your potential new fur-baby!
8 Key Signs of Puppy Health You Need to Look For
You don't need to be a veterinarian to spot a healthy puppy – you just need to pay close attention! These are 8 essential signs of puppy health that are important to be on the lookout for during that first meeting. Read over this puppy health guide before visiting your breeder so that you're prepared to bring home your new fur-ever family member.
Your Puppy is Active – If you're wondering how to tell if a puppy is healthy, one of the first signs of overall health to look for is if they are active. Puppies are naturally young and full of energy! So, if they're not active, that's a sign they're not feeling well or are in poor health. The only exception to this if he has just woken up from a nap and is still a little sleepy!
Shows Good Mental Health – A puppy should be curious, confident, and social – not scared or nervous around their new human friends. If your new puppy hides or cowers when in social situations, they may be a bit nervous. This can actually be a sign of an underlying issue or condition with the dog physically or the way he was raised. Discover how to make bringing home a new puppy stress-free for everyone.
Clear Eyes, Ears, and Nose – When you're investigating this sign of puppy health, you want to make sure that there isn't a sticky goop affecting the ears, eyes, or nose. This is a common symptom of an infection, and the breeder needs to give you answers about it.
Clean Fur – Once again, you want to make sure that your pup is being well taken care of. A big component of that is making sure they are clean. If you see badly matted fur on your puppy and their siblings, that's a sign they haven't gotten the care they deserve.
Moves without Issues – This is one of the surest signs of puppy health. One of the most obvious signs of an injured puppy is one that is limping or has trouble walking. If the dog is having trouble walking, it may be from a harmless injury from rambunctious puppy play. However, you need to ask your breeder for an explanation. Get the info on puppy proofing your home.
Your Puppy Breathes Well – Take a minute to listen to how your potential puppy's breathing sounds. If it sounds like they are wheezing or struggling to breathe, that can be a telltale sign of a serious illness or even birth defects.
Skin Looks Good – Scabs and other skin abrasions are unfortunate signs of fleas or all-around bad care that should make you think twice before buying. Of course, normal puppy play can cause small abrasions to occur though.
Full Vaccination Records – One of the other ways how to tell if a puppy is healthy is to make sure they are fully up-to-date on their vaccinations. Ask to see full shot records showing what was administered and when. If a breeder provides you this, that is a sign they are doing it right!
The Keystone Puppies Health Guarantee
While you should always look for these signs of puppy health when meeting your new pup, that's not the only way to feel safe that you are getting a happy and healthy dog. In fact, at Keystone Puppies we enforce a high standard of puppy health to ensure that you feel comfortable to bring home your four-legged companion.
As part of our health guarantee, here's what options are available to if you a veterinarian determines that your dog is sick from an illness contracted before you brought them home:
You can return the dog for a complete refund.
You can return the dog for a replacement dog of equal value.
You can keep the dog and be reimbursed for the veterinarian fees to make the puppy healthy, as long as it doesn't exceed the purchase price.
Our health guarantee is all about making you feel completely comfortable to bring home your new pet.
Learn all about our puppy health guarantee right here.
How to Tell if a Puppy is Healthy: Trust a Good Company
One of the best ways how to tell if a puppy is healthy is to look at where you are getting them from. Check out the reviews of the dog adoption agency you are working with to see if they have a track record of supporting customers and representing healthy dogs. At Keystone Puppies, we're a family business that loves puppies and wants to see them go to good homes! You can also see if the breeder themselves has reviews that speaks to the care they show their dogs and the experience of working with them. If you have any questions about what sets us apart from our competitors, please reach out!