Schnauzer - Mini Puppies for Sale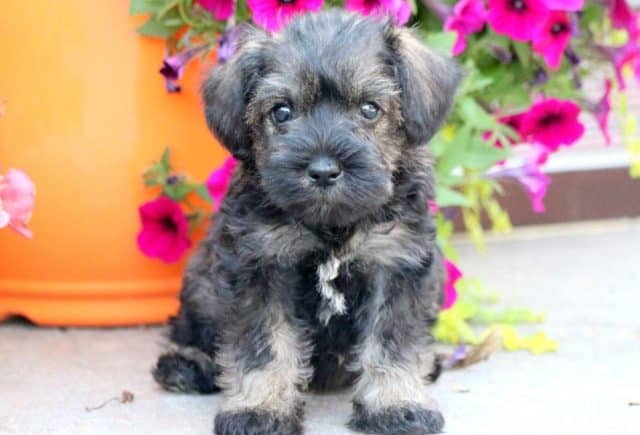 Pick a Pup
Breed Characteristics
Size
Activity
Children
Other Dogs
Shedding
Watch
Guard
Trainability
Overview
This breed was created by mixing the Standard Schnauzer with other small breeds such as the Affenpinschers and possibly the poodle. They were used for guarding children, being a watchdog and guarding flocks. This breed was brought to American in 1925. The AKC gave the Miniature Schnauzer was given full acceptance in 1926 and was grouped in terrier.
Country of Origin: Germany
Weight: 12 - 18 lbs
Height: 12 - 14 inches
Color: This breed comes in Salt & Pepper, Black & Silver and Black.
Temperament
This energetic breed is lively, loving and loyal. The Miniature Schnauzer makes a great companion and is very eager to please. They are alert and intelligent which makes them great watch dogs. This breed loves a good romp in the yard with the older crown but also know when to be gentle with small children, making them a good family pet.
Health
The life expectancy is between 12 – 14 years. Here are some common health concerns in the Miniature Schnauzer breed:
Eye Disorders – Cataracts & PRA (Progressive Retinal Atrophy)
Allergies
Diabetes
Obesity
Coat & Coat Care
The Miniature Schnauzer has a coat which is made up of two layers. They have a soft undercoat and a wiry & harsh outer coat.
It is best to brush the Schnauzer daily to keep their coat from matting. They should be clipped all over two times a year.
Schnauzer - Mini Puppies For Sale
No puppies available at this time.
Dog Breeds Similar to the Schnauzer - Mini
The Havanese originated in Cuba and was created to play with children in the 17th…

About this breed

The Schnoodle is a designer breed created through the cross of the Mini Schnauzer and…

About this breed