American Bully Puppies for Sale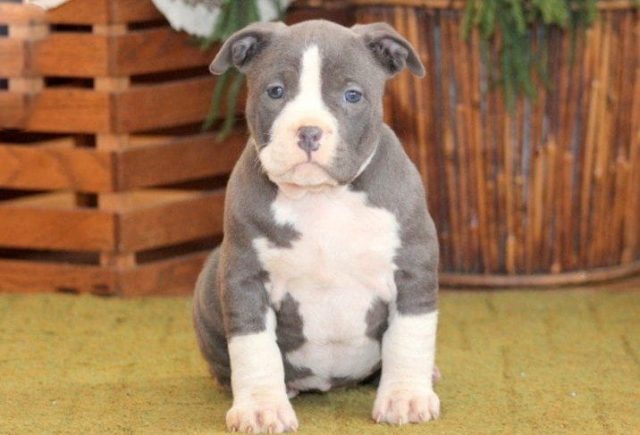 Pick a Pup
Breed Characteristics
Size
Activity
Children
Other Dogs
Shedding
Watch
Guard
Trainability
Overview
The American Bully breed was created in the 1990's with the purpose of being a wonderful family companion. The desired traits in the American Pit Bull Terrier and the American Staffordshire Terrier were combined to make this breed. It is also thought to have some other Bully breeds and non Bully breeds.
This breed is recognized by the ABKC, UCA, DRA, EBKC and BBC.
Country of Origin: United States
Weight: 70 - 120 lbs
Height: 17 - 21 inches
Color: All colors and patterns are permissible in the American Bully breed.
Temperament
The American Bully is a confident dog who loves people! This breed is friendly, affectionate and very loyal to it's family. They are social and very tolerant of children. The American Bully makes for a wonderful family pet.
Health
The American Bully life expectancy is between 8 – 12 years. This breed tends to be pretty healthy.
Coat & Coat Care
This breed has a short, smooth coat.
Brushing twice a week with a firm bristle brush will be suffice.
American Bully Puppies For Sale
No puppies available at this time.
Dog Breeds Similar to the American Bully
This breed was a working dog down in the South. Small farmers and ranchers used…

About this breed

Want to bring home an adorable Cane Corso puppy for sale? You've come to the…

About this breed

The American Pit Bull Terrier was created by mixing different Bulldog & Terrier breeds in…

About this breed