Who Should Care for Your Puppy When You're Away?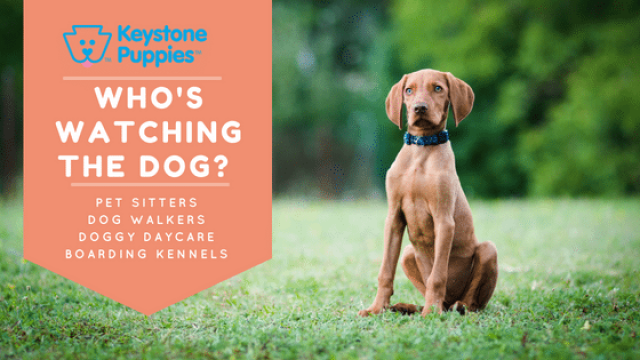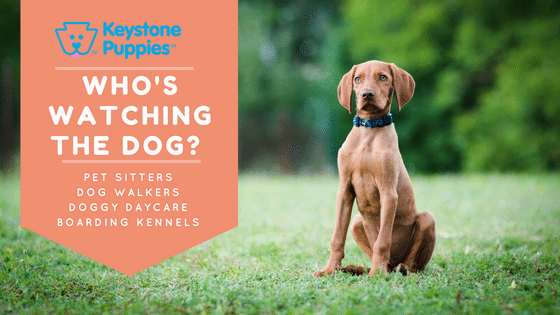 Are you leaving your dog along for long hours while you work? Does your pup get stressed in a crate? Does your pet need more exercise and stimulation during the day? Does your canine pal crave the company of other dogs? Do you need occasional help caring for or exercising your puppy?
While many people can leave their dog home alone for long periods of time, others find their pup gets restless, barks, or becomes destructive. Notably, puppies and younger dogs often need more exercise and interaction than older dogs. Some dogs become depressed when left alone too often. And even the most dedicated pet owners will occasionally need to leave their pup behind during trips.
No matter where you live, you can usually find a variety of pet care options. Thanks to the internet, you can often find several people or businesses to watch your pup in a matter of moments. If you take a bit of extra time to research your choices, you may discover options that both you and your dog enjoy.
Dog Walkers
While dog walkers used to be limited to big cities, today people in all types of communities can find people and services that ensure your dog is walked while you're away. If your schedule doesn't allow you to give your pup the exercise he needs, or if your canine would benefit from an additional walk while you're away, a dog walker may be for you.
While anyone can call themselves a dog walker, some dog walkers are better than others. Here are some tips for finding the best match for your pooch.
Ask Around
Start talking to family, friends, and other dog owners in your area. Ask if they use dog walkers, and who they recommend. Beginning with a reference is important since you will be trusting this person with your pup and the keys to your home.
Get Credentials
Once you have names, take time to learn the background of your walker. Do they have dog training experience? How long have they been walking dogs? Do they have pets of their own? Can they provide pet first aid? Even if you learned about this dog walker through a referral, ask for three references, and take the time to call each one.
Introduce Them to Your Pup
Even with recommendations in hand, have your dog and the dog walker meet and interact. While dogs don't necessarily warm to strangers quickly, watch how comfortable the dog walker is with your pup. Make sure they have a calm, assertive manner, and observe their comfort level with your puppy.
Discuss Details
Find out where they will walk the dog, how far the distance will be, and how long the walk will last. Learn how many other dogs will be on these walks. Discuss concerns about socialization and aggression. Confirm that the person you're interviewing will be the person walking the dog.
Create Contingency Plans
Find out what happens if the walker is sick, or is unable to get to your home on any given day. Make sure your dog walker knows how to get in touch with your vet. Share an emergency contact in case the dog walker can't reach you. Ask for an emergency contact for your dog walker, in case something happens to them, or they don't return with your pup.
Dog Sitters
Dog sitters offer a variety of services. Some come to your home each day, play with your pup for an agreed upon amount of time, check on food and water, and may even walk your dog. Others offer pet sitting in their home, along with other dogs. Some dog sitters offer overnight service at their home. Others agree to stay in your home with your puppy while you are away.
No matter which scenario you are considering, it's important to spend time getting to know potential dog sitters. Hiring a professional, qualified individual paid to care for your pet can provide benefits to both you and your puppy.
Many people earn extra money dog sitting, but they're not all equally qualified. Here are some tips for finding the best dog sitter for your four-legged pal.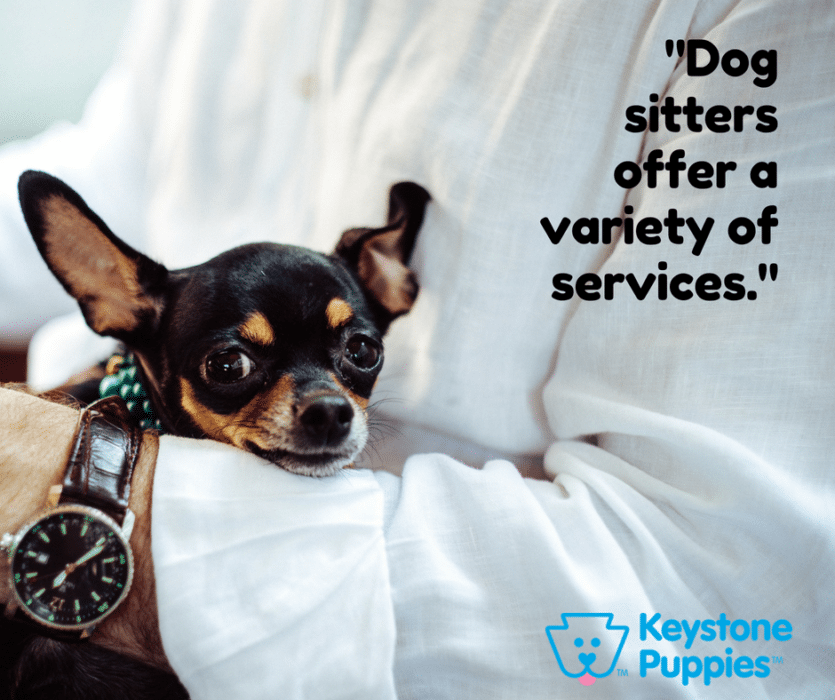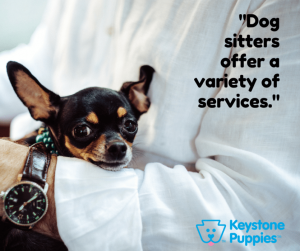 Ask Friends who They use
Talk to family, friends, and other dog owners. Start with a personally-referred option if you can, since pet sitters will be taking care of your dog and, in some cases, will be in your home for long periods of time. If you can't get personal recommendations, The Humane Society recommends contacting the National Association of Professional Pet Sitters (856-439-0324) or Pet Sitters International (336-983-9222).
Check Their Qualifications
Ask your pet sitter to provide written proof of commercial liability insurance to cover accidental damage. If they are coming into your home, make sure they are bonded to protect yourself against theft. Ask if they have dog training experience and if they provide pet first aid. Whenever hiring someone to watch your pet, ask for three references, and take the time to call each one.
Make Introductions
Bring your dog and the dog sitter together to do a chemistry check. While it's normal for many dogs to be shy around new people, watch how the sitter interacts with your puppy. Are they calm and assertive? Do they seem comfortable and confident around your canine pal? Are you comfortable with their personal style?
Get all the Details
Make sure you're both clear on expectations. Even if your sitter doesn't offer a contract, list your expectations for time and duties in writing or in an email. Clarify expectations for playtime, companion time, downtime, and walks. Agree on feeding procedures. Find out if other dogs will be present, and if so, how many. If other dogs are present, make sure the sitter requires vet records. Find out how the sitter handles socialization and aggression.
Plan for Emergencies
Find out what happens if the sitter gets sick or has to cancel. If you're on a trip, agree on next steps if you're unexpectedly delayed. Share emergency contacts for your dog and yourself, and ask for an emergency contact for the sitter.
Doggy Daycare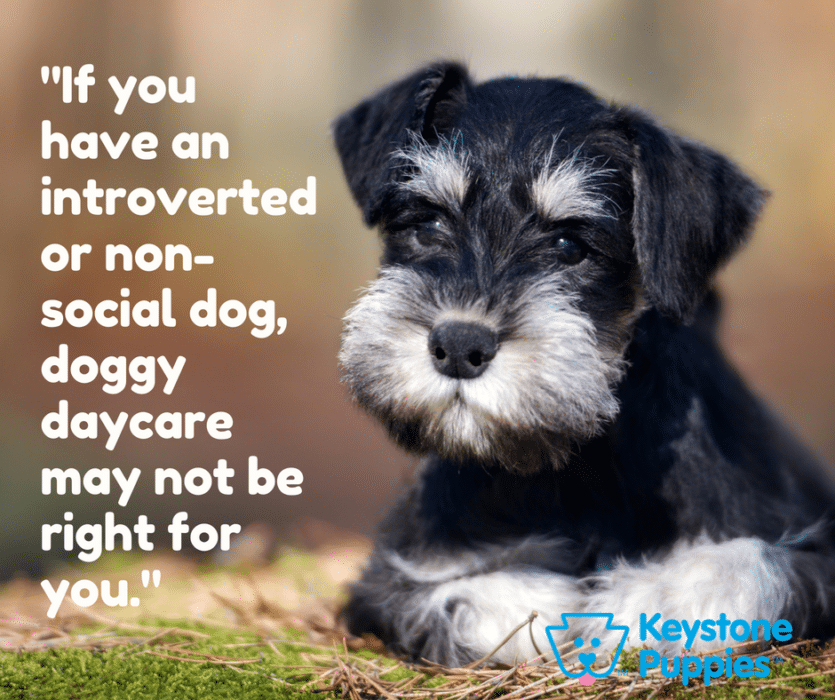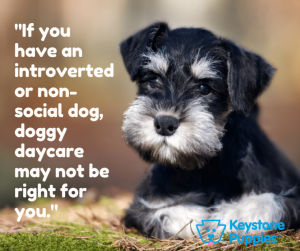 Doggy daycare allows you to bring your dog to a boarding facility, usually in half-day or full-day increments. Unlike dog walkers and dog sitters, doggy daycares keep business hours and usually apply high fees if you are late when picking up your pup.
Dogs spend the day with a group of other canines, and usually get much more exercise than they would if staying home alone. Doggy daycare is a good choice for highly active pups who enjoy socialization. If you have an introverted or non-social dog, doggy daycare may not be right for you.
Most doggy daycares are staffed by experienced dog handlers who are able to administer simple first aid or transport the pup to a vet if needed. Dog interaction at doggy daycares varies. Some put pups into a large play area and allow them to socialize for hours, or even all day. Others confine the pups to crates or cages for part of the day and have intermittent playtimes. Most separate dogs by size or temperament.
How do you know if a doggy daycare center is right for you?
Visit the Facility
Take time to visit the facility, and spend 30 minutes. If the facility uses crates or cages, visit during a scheduled playtime. See how the dogs interact, and how the staff intervenes. Check out the cleanliness and ask the staff how the facility is cleaned. Find out if dogs are walked, or if they relieve themselves in the play area. Even if the dogs are kept primarily in a central play area, ask about places dogs can retreat to for quiet time. If patrons come in during your visit, see if you can casually converse with them about their experiences.
Find out What Other People are Saying
Ask around. Have friends and family used this place? Look online to find reviews.
Learn Their Policies
Doggy daycares are usually run within specified hours. They may not be open on holidays, and they usually have late pickup fines that can be substantial. Find out what they require for medical records. Learn their policies on aggressive dogs, and how they integrate or separate dogs based on size or temperament. Find out how much outdoor time dogs get, and if they can go on walks as part of their day. Some doggy daycares also offer training and grooming.
Clarify Commitments
Because doggy daycare offers so much stimulation and excitement, many dogs become overwhelmed. You may start out going 2 days a week and decide to increase it to 5 days a week. Or you may want to reduce the number of days or go to half days. Because the facilities have to provide staffing based on your initial plans, some facilities require that you give two week's notice of changes, or ask you to pay in advance by the week or even by the month.
Dog Kennels
Eventually, most of us will need to find a boarding facility for our puppies when we travel for work, take a vacation, travel to a weekend wedding, or attend family events. While some people prefer to work with pet sitters or use family and friends to pet sit, a good dog kennel does offer some advantages. These facilities offer 24/7 boarding. Dogs are kept in individual crates or cages, giving them privacy and space for most of the day. Many dog kennels offer individual outdoor spaces for each dog and let the dogs out into those spaces several times a day. Dog kennels may also offer doggy daycare, integrated playtime, grooming, or daily walks as part of their services.
How do you know if a dog kennel is the best choice for your pet?
Visit the Facility
Take time to tour the facility. Walk through the kennel spaces. If the staff says that you are not allowed in the kennel spaces (for reasons of liability or exciting the dogs), insist on an exception, or keep looking. You must check the condition of the cages, find out if they allow personal items, and determine the cleanliness of the confinement spaces. Make sure the kennel is both heated and airconditioned.
Check out Reviews
Ask friends and family if they have tried the facility, and check online for references and reviews.
Get the Details
Pick up and drop off hours are usually limited. Make sure you plan around their hours. Find if you can leave items with your dog – a blanket, pillow, toys, etc. Learn feeding requirements. Learn if they offer playtime, walks, or grooming.
Book Early
Kennels have finite space, and often book up during holidays and popular vacation periods. Once you've chosen a facility, book early to ensure a space.
While we'd love to be with our dogs all day, every day, most of us will eventually need some help caring for our canine companions. While friends and family can be a great resource, professional services like dog walking, dog sitters, doggy daycare, and dog kennels can be helpful resources that give your dog the attention, exercise, or social interaction he needs to stay mentally and physically healthy. If you take the time to research your choices, meet with the people who will be interacting with your pup, and see what other people are saying before you make your choice, you may find a solution that helps you and your pup make the most of every day.
*****
Keystone Puppies cares about the health and well-being of your dog. Make sure you research your dog care options before making a choice. Dog walkers, dog sitters, doggy daycares, and dog kennels can all be great ways to give your dog the additional exercise and stimulation he craves. However, not all dogs will enjoy the interaction with new people or pets. Use your dog's breed traits and personality as a guide. If you're not sure which breed is right for you, research over 200 dog breeds here. If you're ready to find the puppy that's right for your home, click here.