Safer Car Travel with Your Puppy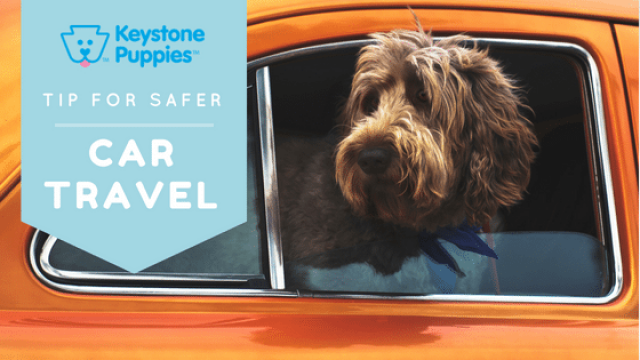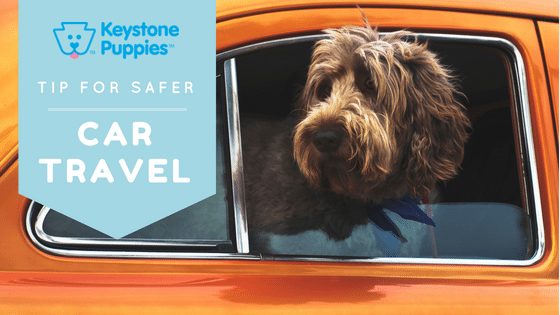 Car travel is an activity that is a bit frightening for young puppies. But as any dog lover can tell you, once your puppy gets a taste for car rides, it will quickly become one of your pet's favorite activities. A ride in your vehicle offers your dog a bit of adventure. Most canines enjoy the novelty and are energized by the prospect of fast-paced travel to an unknown destination. Dogs are also excited to explore new smells, one of the reasons they love to stick their noses out of open windows. According to Nova, a dog's sense of smell is 10,000 to 100,000 times as acute as our own. When you open a car window, you're allowing your pup to experience a wide array of new smells and odors.
Some people hypothesize that, to your dog, a car ride feels like running with a pack. After all, your pup is with you and other passengers, traveling together, not running off in different directions. Moving along in a relatively synchronized way can be highly satisfying for your puppy.
Want to keep your pup safer while traveling in cars or trucks? Here are a few tips to help you protect your pooch during car and truck trips.
Tip 1: Turn off Power Windows, or Activate the Child-Safety Lock
If you have a car, truck, or van with power windows, your dog can open or close the windows with an accidental press of the paw or push of the snout. Some vans even have a push button to open sliding doors. To be safe, activate your vehicle's child safety lock feature when traveling with your pup, or turn off the power window feature.
Tip 2: Protect Your Dog From Crash Injuries
Crates
Crating your pup in your vehicle is one of the most effective ways to protect your pet if you're involved in a minor or major accident. Choose a safety-certified, crash-tested crate that offers high visibility and lots of air circulation. While it may be fun to let your pup roam around your vehicle, it's not safe. Just as you insist on passengers wearing seat belts, you should keep your dog safely constrained during trips. The Center for Pet Safety offers crate recommendations here.
Dog Harnesses
While there are many dog harnesses on the market, not many have passed safety tests. Be sure to research the harness's safety performance before purchasing. This article from Consumer Reports will explain how pet harness safety tests are conducted, and shares names of some of the brands that met safety standards.
Dog Barriers
Using a gating system in your vehicle will not protect your dog as effectively as a safety-tested harness or a crash-proof crate. However, dog barriers are a reliable way to keep your dog contained, allowing the driver to focus on the road. Dog barriers usually keep dogs in the rear section of a van or wagon, allowing you to focus on driving while protecting him from flying object in case of a collision.
Tip 3: Be Prepared for Emergencies
Even the most cautious owner can encounter emergencies on the road. Whether it's a crash, a sick pet, or a pet that has run off, make sure you're ready to deal with each crisis quickly and effectively.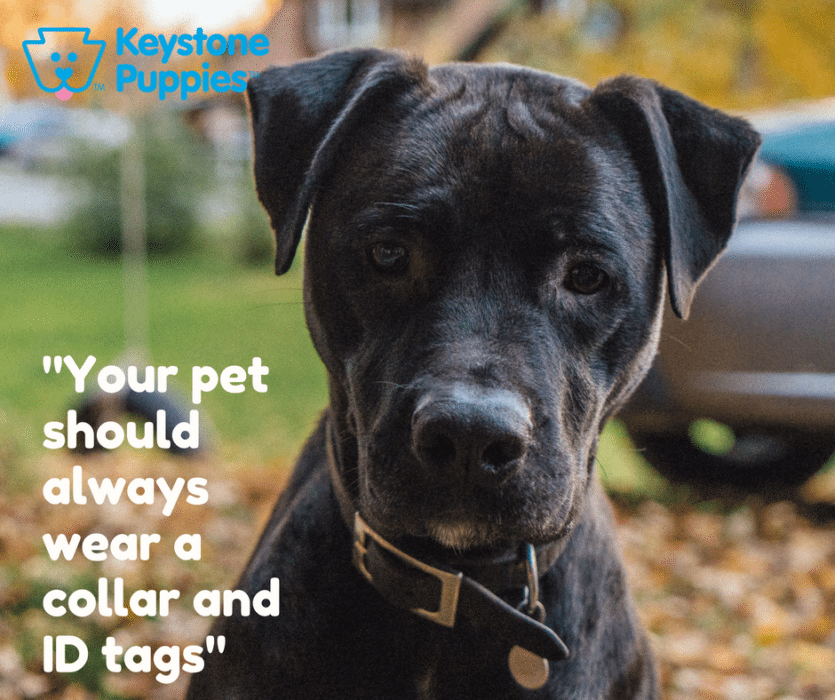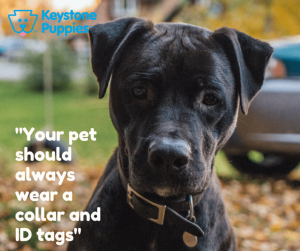 Keep your veterinarian's contact information on your phone. Keep a printed copy in your glove compartment in case you're in a crash and are not able to communicate. It's also a good idea to keep a few photos of your pet on your smartphone to use in case your pet becomes lost.
Your pet should always wear a collar and ID tags that include your name, address, and phone number. Consider getting a microchip for your pet, and make sure to keep the contact information and cell number info for the microchip updated.
Keep a pet first aid kit in your vehicle to deal with minor mishaps. Your pet first aid kit should include:
Styptic swabs to help stop bleeding for small cuts
Rubber gloves or dog booties to help dogs continue to walk on tender paws after injuries
Gauze and heavy-duty bandages that are stretchy enough and tough enough to stay in place until you get your pup to a vet
Saline in a squirt bottle to wash dirt, insects, or even skunk spray out of a dog's eyes
Small pliers and tweezers to remove small pieces of glass, metal, wood splinters, or any other foreign object that your pup might encounter
Tip 4: Make Time for Food, Water, and Potty Breaks
It can be a lot of fun to bring your dog with you on summer outings but don't forget to take care of some your pet's most basic needs. If you'll be gone for more than 30 minutes, bring fresh drinking water with you. In addition to your dog's regular need for water, the excitement and panting of a trip, combined with the breeze of an open window, can increase your pet's need for water. Play it safe and offer your pet a drink each time you get out of the vehicle. On warm days, pay more attention to his thirst, and try to get him to drink a bit more to compensate for the natural dehydration that occurs in the heat.
As you travel, keep your dog's potty schedule in mind. Try to take a quick break every 30 minutes to let your pup stretch his legs, sniff about, and do his business. Even if you find he doesn't need to urinate, the walking and sniffing will keep him alert, limber, and happy. And don't forget to keep a bag with you to clean up any poop.
Finally, having tiny treats with you is a good way to keep your dog focused on you when you leave the car. Overexcited dogs find it easy to ignore their owners. Having a few bits of kibble on hand will help you provide the incentive for your dog to calm down and obey commands, especially as your dog exits the vehicle, eager to explore new destinations.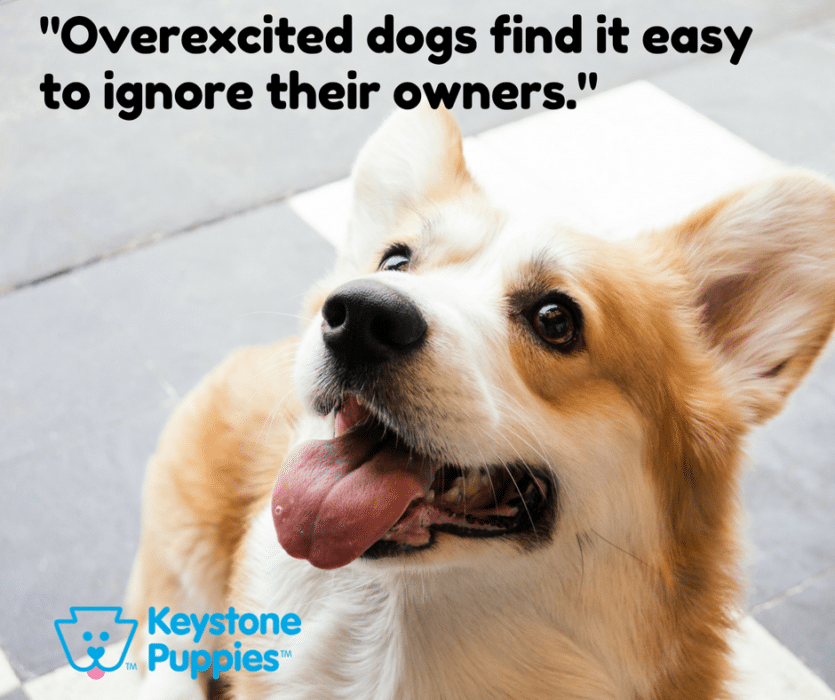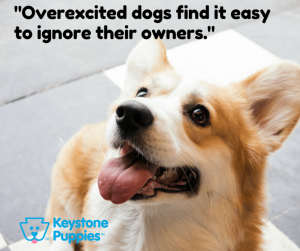 Tip 5: Never Leave Your Pet in a Parked Vehicle
Cars are dangerous places for dogs, even if the weather seems mild. The glass in cars and trucks magnifies the heat, creating a hazardous greenhouse effect, even when it's a pleasant 65 degrees outside. On a 75-degree day, temperatures inside a parked car can climb well past 100 in a matter of minutes. That means your vehicle's temperature can become life-threatening for your dog within minutes.
Because inside temperatures in a parked car can elevate so rapidly, and unexpectedly, even with cracked windows, it's never okay to leave your pet alone in a car. In fact, more than 15 states have laws that prohibit leaving animals alone in cars in any condition that would harm them because of temperature or extended lack of food or water.
***
Keystone Puppies wants you to have lots of great road trips with your puppy. Be prepared for emergencies, harness or crate your pup, keep him hydrated, and provide lots of potty stops. If you haven't decided which breed of dog is right for you, research over 200 breeds here. Want to search for your new puppy now? Click here to get started.