5 Tips for Safe Park Outings with Your Dog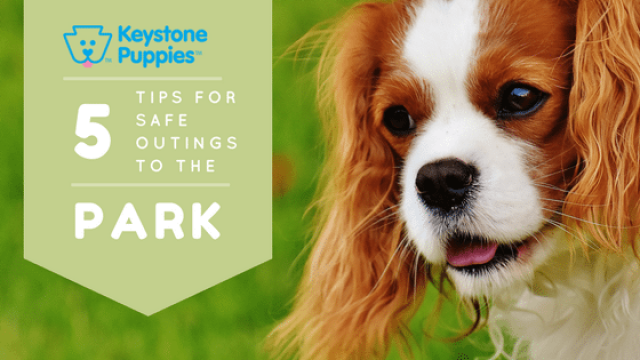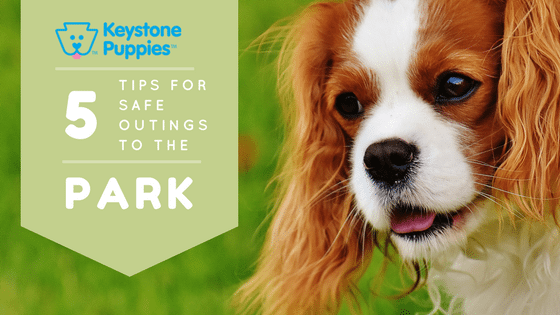 Daily walks are a must. Letting your dog romp in the yard is an excellent way for your dog to work off extra energy. However, like people, many dogs tire of the same old routine. That's why your pup may enjoy trips to other open spaces. Local parks may provide a new place to explore without taking your or your pet too far out of your comfort zones.
Dogs Love People Parks too!
People parks, (not to be confused with dog parks that provide fenced in areas for dogs to run off leash) were created primarily for use by humans. In fact, some parks don't allow dogs. But many parks offer dog-friendly walking paths, lawns, and common areas that are perfect for leashed pets.
Most parks are a great place to exercise dogs. They also are an effective tool to use to help your puppy become comfortable with new sights, sounds, and smells. Not only do parks offer a variety of green, communal spaces, but many also offer paved walks, gravel trails, wooded areas, playgrounds, or other attractions that dogs love.
Ready to take a trip to the park with your pooch? Here are five tips that will help you and your dog love parks.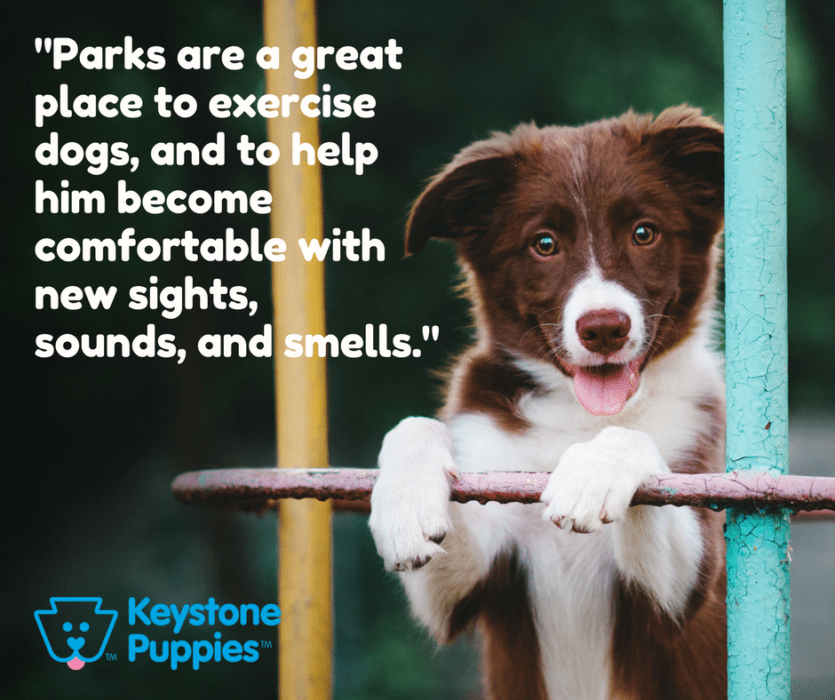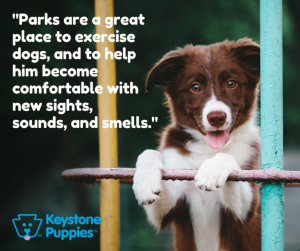 Tip 1: Keep Your Dog Safe
Stay Up to Date on Shots
Before you expose your dog to other canines, people, and pests, make sure he's old enough. Hold off until your pup is at least 14 weeks old. Make sure he's up to date on his Bordetella shots, heartworm medicine, and flea and tick prevention measures are in place. Some areas recommend dogs get Lyme disease vaccines. Check with your vet.
Keep Sick Dogs at Home
Don't take your dog out if he seems ill, has been throwing up, or has diarrhea. Save park trips for days when your dog is healthy enough to enjoy the experience. Dogs that feel sick are also more irritable and are more likely to act out in unusual or seemingly irrational ways.
Monitor Other Canines
Dog owners love parks, which means you'll probably encounter other dogs on your visit. Remember that your dog takes many of his cues from your body language. Stay relaxed and be friendly with other dogs and park goers. Even if you keep your distance, making eye contact and saying hello to other people and dog owners (even if they don't reciprocate) shows your dog you are comfortable in this environment. This comfort allows your pup to relax as well. At the same time, stay alert and monitor the behavior of oncoming dogs. If you sense aggression from other dogs, or if your dog is exhibiting aggression, take another path and calmly walk away from oncoming pups.
Stay Away from Strangers
Children love dogs, and many young children will run to your dog without your permission or the permission of their parents, which can make some dogs nervous. Even calm dogs can be surprised by a squealing child. If you have any doubts about how your dog will react to any child, calmly tell the child to stay away. Never test your dog's comfort with strangers.
If you don't already know the children, don't let kids under the age of five pet your dog. Pre-schoolers simply can't be trusted to treat your dog gently, and your pup's only protection against painful pulls and grabs is a nip or a bite. Don't risk it.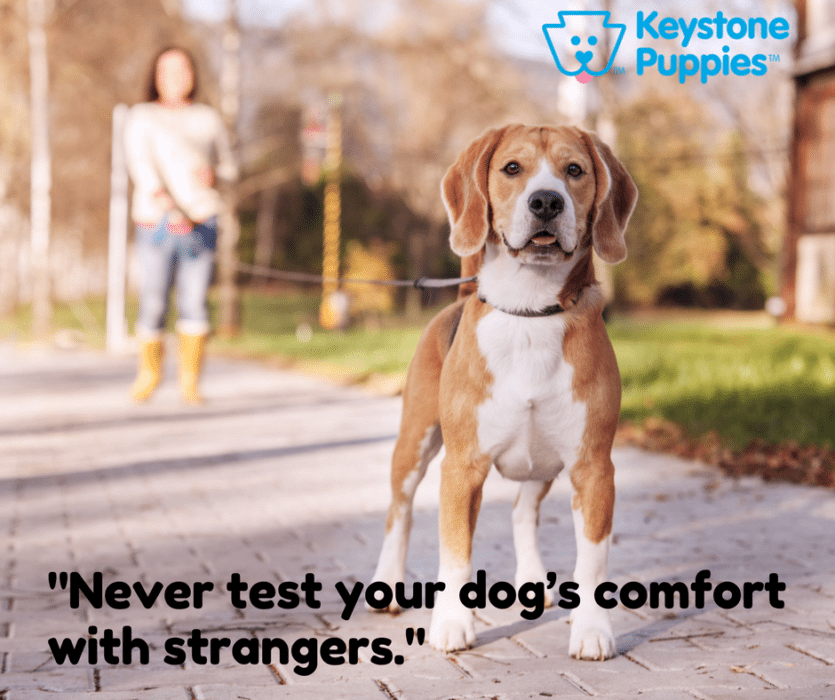 And remember, although your dog is undoubtedly adorable to adults and children, you do not owe anyone the chance to pet your dog. Allowing your dog to maintain a comfortable distance from strangers is always the safest policy.
Stay Away From Water Features
While some parks have drinking fountains or dog drinking stations, it's a good idea to bring your own water to the park. Don't allow your dog to drink from water fountains, rivers, lakes, pools, or even puddles. Most clear water features in a park are kept clean with the use of chemicals. Natural water features may contain harmful bacteria. Either way, these water features pose a potential threat to your pup's health. Bring a bottle of water from home and let your dog sip from it often.
Bring Water and Treats
Giving your dog sips from a water bottle not only keeps him away from water features, but it also keeps him hydrated. It's also a good idea to also have small treats in your pocket to reward your dog for good behavior. Small treats are also a way to shift his attention back to you if he becomes fixated on a squirrel or a duck.
Tip 2: Keep Others Safe From Your Dog
In public parks, you not only need to keep your dog safe, but you also need to ensure others are safe around your dog. No matter how docile your dog is, leash your dog in public spaces. A leash not only ensures you maintain control of your pet, but it also makes others feel more comfortable if your dog is nearby.
If your dog is new to parks, you may be surprised to see him become nervous around bicycles, strollers, roller skates, skateboards, and strollers. The sound and speed of these experiences are often disconcerting to young dogs who are still in the process of being socialized. If your dog has not been around these sounds much in the past, limit his initial exposure to these things. For example, don't make your pup's first park outing part of a bike race or a skateboard park. Allow your dog to experience these things at a distance, gradually decreasing distance as his acceptance of them grows.
Many dogs retain powerful hunting instincts. Ducks, geese, rabbits, birds, and squirrels may be irresistible to your pup. Repeated exposure to these types of animals, combined with treats for good behavior, will minimalize their desire to chase animals. However, for some pets, the desire to chase small animals is a difficult instinct to ignore. For other dogs, trained to hunt, encountering small animals in a park setting can be downright confusing. This website offers some smart training tactics to help you control this behavior.
Tip 3: Explore Playgrounds
Many parks feature playgrounds, exercise courses, and fitness trails. These attractions are great for humans, but can also become fun, interactive, agility exercises for your dog.
First off, make sure the area is not in use by children or adults. Don't bring your dog into exercise areas or playgrounds being used by other park patrons.
If the playgrounds or exercise areas are empty, use this opportunity to teach your dog to become more comfortable with different surfaces and heights. Use treats to encourage your dog to jump over small barriers, climb up stairs, crawl under low poles or walk on planks. Keep it simple and fun. The mix of learning a new activity, with the addition of physical achievements, is usually a fun and satisfying combination for your pet.
Tip 4: Spend the Afternoon
People aren't the only ones who love picnics. If you want to take advantage of a lovely day, pack a blanket, a water bottle, your pup, and head to the park. If you want to let your dog roam a bit, consider investing in a staked leash. Otherwise, keep your dog on an extendable or standard leash. Bring plenty of water for your pup, and on hot days, look for a shady spot to keep your dog cool. Even enjoying the weather for 15 minutes can boost your dog's mood, and the extra time outdoors may also lift your spirits as well.
Tip 5: Pack a Park Kit
Once you've taken your dog to the park, you may find yourself looking for excuses to stop at a park more often during the day. If you like to take your dog with you on errands, it may make sense to put a "park kit" in your vehicle, so you can take advantages of parks and green spaces whenever the opportunity arises. A simple park kit contains a towel for drying off mud or water, a leash, a few poop bags, and a bottle of water. If you like to spend extra time at the park, you may want to consider including a staked leash or dog treats. Put it all in a drawstring bag to make it completely portable. Now you're ready to enjoy the park with your puppy at any time.
*****
Keystone Puppies cares about the health of your canine pal. No matter which breed of dog you choose, outdoor activities are essential to the mental and physical health of your pup. Give your dog daily walks and provide regular outings to green spaces. If you haven't decided which breed of dog is right for you, research over 200 breeds here. Want to search for your new puppy now? Click here to get started.