Golden Labrador Retriever Puppies for Sale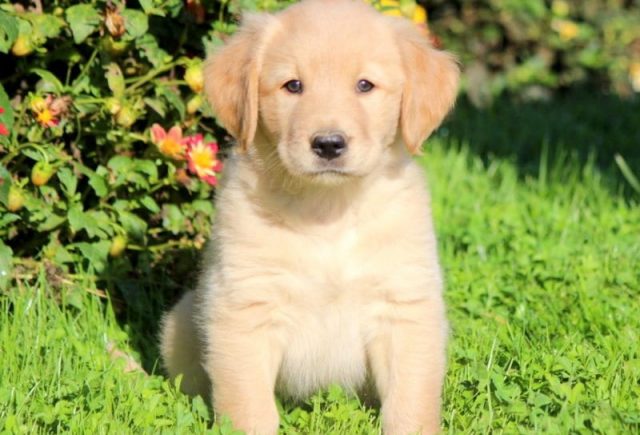 Pick a Pup
Breed Characteristics
Size
Activity
Children
Other Dogs
Shedding
Watch
Guard
Trainability
Golden Labrador Retriever Breed Overview
Want to bring home an adorable Golden Labrador Retriever puppy for sale? You've come to the right place. At Keystone Puppies, our mission is to help Goldador puppies find their forever homes. In addition to Golden Labradors, we work with a range of other breeds — including Golden Retrievers, Yellow Labs, Lab Mixes, and more! All our puppies are bred with the highest standards of ethical integrity — free of common genetic defects that impact less responsible breeders — and are raised in happy homes where they're treated like part of the family before becoming part of yours!
The Goldador dog breed is an incredible mix of two beloved breeds, the Golden Retriever and the Labrador Retriever. It originates from the mid-1990s, when it became popular for people to combine different dog breeds to create a perfect companion. Golden Labrador Retrievers boast many of the qualities of both breeds, such as strong retrieving skills, eagerness to learn tasks and social aptitude. They are considered relatively low maintenance and make amazingly loyal companions.
Generally speaking, these dogs do best when well exercised with plenty of training and socialization. Many find them to be ideally suited for young families due to their kind personalities and effortless ability to blend in with existing pets. All these factors have contributed to making this breed continuously popular among pet owners across the country!
Country of Origin: N/A
Weight: 50 - 85 lbs
Height: 21 - 25 inches
Color: The Goldador comes in a variety of colors including chocolate, yellow, black and golden.
Goldador Puppies Temperament
Goldadors are an amazing combination of the intelligence and trainability of the Labrador and the friendly, gentle personality of the Golden Retriever. With their outgoing, friendly character and sweet disposition, Goldadors make excellent family pets around children and other animals as they have a great aptitude for understanding people.
In terms of temperament, these beloved pups are highly sociable but not overly boisterous or hyper; they enjoy playing fetch but rest just as happily on your lap or at your feet while you work. With their fun temperaments, intelligence and loyalty, it's no surprise that so many people consider the Goldador one of the best "all-around" dogs.
Golden Labrador Retriever Puppy Health Considerations
Though generally very happy and long-lived — with an average lifespan of around 10-12 years — our Goldadors for sale are not without their unique health concerns. Like every breed of dog, there are a few conditions you should be aware of before you consider purchasing one of our Golden Labrador Retriever puppies for sale. Understanding the risks allows you to know the signs and prevent small health concerns from turning into big ones.
Goldador puppies are at a somewhat elevated risk for developing the following conditions:
Hip Dysplasia
Ear Infections
Epilepsy
Skin Allergies
With some basic knowledge of the breed's health concerns, you can be sure to give your Goldador the best possible chance at a long and healthy life. Finding a Golden Labrador puppy for sale from a reputable breeder can also dramatically — although, not eliminate — the risk of your dog developing some of these conditions. At Keystone Puppies, we work exclusively with experienced breeders who are committed to producing healthy & happy pups. To learn more about what we do to ensure your pup's quality of life, read about the Keystone Puppies Health Guarantee!
Goldador Puppies Coat & Coat Care
Taking care of a Goldador's coat is important for keeping them healthy and looking their best. It's wise to brush their coats two to three times a week, which will help keep the coat in good condition and maintain its natural shine. Depending on the climate they live in, Goldadors may need regular baths – however omitting shampoo once or twice a year will ensure their coat retains its natural oils. Finally it is recommended to check the ears regularly and trim nails as needed.
Meet Golden Labrador Retriever Puppies for Sale
No puppies available at this time.
Dog Breeds Similar to the Golden Labrador Retriever
Long shining coats, floppy ears, and heart-warming smiles - Golden Retrievers are one of the…

About this breed

The Lab mix can have multiple purebred or mixed breed lineage. One way to determine…

About this breed

Want to bring home an adorable Yellow Lab puppy for sale? You've come to the…

About this breed